Gretchen Bleiler clears head
Gretchen Bleiler is better than ever after WX13 concussion
Sometimes pain can be the greatest motivator. Sometimes we need to be reminded that we are human. Sometimes, we just need a smack upside the head.
For Gretchen Bleiler, it was just that — a brutal, head-jarring crash — that brought about a career-changing realization. A concussion inducing a moment of clarity? Sounds ridiculous, but for the Winter X SuperPipe champion, a serious blow to the head was "the fall that needed to happen."
The "fall" happened during Bleiler's second run of the Winter X13 final. After throwing a 900 on her first hit, she hooked her heel edge on the deck's lip on re-entry, resulting in ragdoll carnage. Bleiler was forced to withdraw from competition.
For Bleiler, pulling herself from the Winter X Games in the middle of a final was a torturous decision, and one (in her concussed state) she may not have made if it weren't for friends, teammates and coaches raising the stop sign in front of her dilated eyes. Bleiler loves Winter X; Aspen is her local turf, and WX is her chance to put on a show for hometown fans. She loves the format of the competition, and it's a contest she looks forward to every year. In fact, she's the only woman in history to claim Winter X SuperPipe gold three times. But something wasn't right entering Winter X13. Gretchen felt off — like something was "going to happen."
Olympic Dreams Attained
As a two-year-old, Bleiler made a decision. She wanted to go to the Olympics. She didn't know how or when, but she knew she wanted to be an Olympian. When she moved to Aspen at the age of ten, she found herself on the Colorado slopes…a lot. She joined the Aspen Valley Ski and Snowboard Team and began traveling to snowboarding competitions. As she climbed the snowboarding ranks, her sport was embraced by the IOC and became an Olympic event. Bleiler's life-long goal suddenly appeared obtainable.
What followed was Bleiler's journey towards realizing her life-long dream. She made the U.S. Snowboard team and suddenly had access to gymnastics camps, trampolines, dry land training, water ramps, nutritional coaches and mental coaches. A run for the 2002 Olympic team ended in heartbreak when she was edged in a tiebreaker for the final spot. The next four years were spent focused on training and winning around the world, including '03 and '05 Winter X gold. In 2006 she easily captured a U.S. Olympic spot.
She calls the day of the 2006 Olympic Halfpipe competition her greatest memory and the silver medal she earned that day her greatest accomplishment. Though she didn't win gold (which she attributes to missing the grab on her frontside 900), she had achieved her goal; she was an Olympian. And she medaled, to boot.
What Next?
Now what? After reaching her goal of 22 years, Bleiler failed to set new marks for herself. "My goal was to go to the Olympics," she says. "I accomplished it and failed to set goals after that. I was on auto pilot — in no man's land. It got to the point where I wasn't snowboarding as much and I feel like I fell behind."
Though her competitive spirit kept her valid at every contest she entered (including WX12 gold), she watched her peers progress in significant measures while she remained on the same level. "I was cruising," Gretchen says of her post-Olympic snowboarding. "I hadn't been working hard or setting goals — I need to feel prepared and that I've worked for something, that I've done my homework."
Before the 2009 Winter X SuperPipe final, Bleiler says she, "Kinda knew something was going to happen. Before I had the fall at [Winter] X Games I had a few warning signs here and there that I needed to reevaluate the way I was approaching snowboarding."
In Bleiler's mind, hitting her head so hard it bruised her brain was the big wake up call that had been in the works for awhile.
When Gretchen's senses returned, they brought with them a reality check. Today's women's halfpipe riding is serious business, and she was going to get hurt if she wasn't completely focused. The frightful Winter X crash caused her to take a closer look at the way she was approaching snowboarding, and life in general.
Without time to enact the necessary changes, Bleiler says the rest of her season was "a junk show." Though she squeaked onto a couple of podiums, she was nowhere near the dominating force she felt that she should be.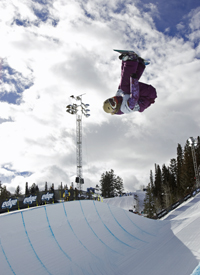 As the competition schedule slowed, Bleiler was finally able to give her body and mind the attention it deserved. First, she focused on the latter. "I was spread so thin with media obligations and photo shoots," she says. "I was getting dragged all over the place and I wasn't in control of my life, it was in control of me."
As Bleiler reclaimed her life, she took more time for herself and committed to whatever task was at hand. When she was on the mountain she thought only about being on the mountain. She didn't let her mind wander to external distractions while throwing a crippler 10 feet above a 22-foot superpipe.
Once the mental game was back in place, the physical side came easily. Entering the 2009/2010 season, Bleiler believes she's in her best riding shape in years. She trained in New Zealand throughout the fall and took second behind Kelly Clark at the first Olympic qualifier, The U.S. Grand Prix at Copper Mountain (Dec. '09).
Bleiler has turned her signature Crippler 540 into a Crippler 720 that she is linking to a Cab 720. She says the Crippler 720 feels "more natural" than the 540 ever did, and that it makes her Cab 7s bigger and better. She has also been working to equalize amplitude on her frontside and backside wall and on generally smoothing out her run.
So what is it that the 28-year-old wants now that she has her head and focus back? She's ruthlessly competitive, so of course she wants Winter X and Olympic gold. But what's better than gold? Sticking her perfect run. "If I can land the run I want for the Olympics in Vancouver, that is more important than getting a medal," Bleiler says.
You can bet the perfect run includes a 900…with a grab.
For more on this story, please visit ESPN.com
Posted on: December 31, 2009