Not lonely at the top
While the world holds its Olympic halfpipe breath, Jamie Anderson dominates slopestyle with a wink and a grin
It's Dec. 10, 2009. Some of the world's best snowboarders gather atop a 22-foot-tall halfpipe at Copper Mountain, Colo. Each has prepared a diligently-practiced contest run to debut in the first of five competitions that will determine the final rosters of the U.S. and Canadian Olympic snowboarding teams. The air is quiet, the vibe tense. Two-time Winter X Games Slopestyle gold medalist Jamie Anderson — a 19-year-old phenom who is one of the best female snowboarders on the planet — gets ready to ride.
She is, understandably, a little nervous. On a slopestyle course she is almost impossible to beat, but her record in the halfpipe is spotty. She's placed in the top three a handful of times, but she's ended up eighteenth more than once. And unlike her halfpipe-focused peers who log countless hours perfecting their routines, Anderson's love for park riding is so strong that she has a hard time talking herself into leaving the park for the pipe. That makes her halfpipe training routine so sporadic, it could hardly be called "training" at all.
Anderson has raw talent and an all-or-nothing approach to contest riding that makes her a contender in any event, but with only three spots for female halfpipe riders on the Olympic team, and pipe heavies like Gretchen Bleiler and Hannah Teter gunning for two of them (Kelly Clark's already locked one spot down), she's not favored to make the cut. Still, it's the Olympics, so she figures she should give it a shot. Unfortunately, her first of two qualifying-round runs hasn't earned her enough points to get into the final. Anderson stands up to take her second, and possibly last, run. But just as she is about to drop in, she realizes that her fellow slopestyle competitor and One Life Crew member, Chanelle Sladics, has unstrapped her snowboard bindings.
"Yeah, I got a lot of evil looks for that prank," says Sladics later about the joke. "But Jamie thought it was hilarious."

At the pipe, no one laughs, no one plays games. The whole atmosphere is so stiff. When I'm at a slopestyle contest, it's like a party.
–Jamie Anderson
"I don't know why, but no one at the pipe laughs, no one plays games," says Anderson. "The whole atmosphere is so stiff. When I'm at a slopestyle contest, it's like a party. We're always pranking each other, dancing, having so much fun. And then I go to a pipe event and people are quiet, nervous, hiking, everyone's watching you. It's just … scary."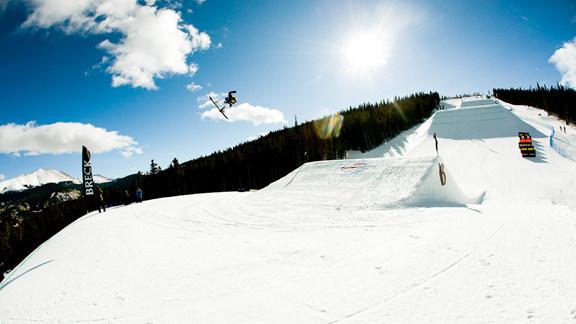 Nate AbbottAnderson, alone at the top, middle, and bottom in any comp.
Gallery»
Of course, it's easy to have a carefree attitude about contests when you've been entering them at the highest levels since you were 13. That was when the South Lake Tahoe, Calif., native competed in her first Winter X Games. Two years later, she won her first Winter X medal — a bronze in Slopestyle — making her the youngest Winter X medalist in history. By 17, she'd earned two Winter X Slopestyle golds, as well as a TTR World Snowboard Championship. The only reason she didn't repeat both titles last winter was injury: She fractured her pelvis at the European Open, which forced her to miss Winter X. Then, just as she was getting back on her feet, she caught her edge during practice for the U.S. Open Slopestyle and ruptured her spleen. Despite the two injuries — either one of which would have been enough to sideline another competitor for the whole year — Anderson still finished third in the TTR World Snowboard Ranking and won the Burton Global Open Series.
As for the current season? She's won every slopestyle and big air contest she's entered so far. And she isn't just winning by a small margin. At the year's first Dew Tour in Breckenridge, Colo., Anderson scored a 92 — twice as many points as the women who placed 4th-through-6th — and set a Tour record.
Viewed through the prism of competition history, women's slopestyle competition works in cycles. One woman reigns supreme, easily winning nearly every contest she enters for a period of four-to-five years, at which point injuries and age seem to take her out of contention just as a new star is rising to take over. Janna Meyen took over the discipline while former champ — and five-time Winter X slope and big air gold medalist — Tara Dakides was out with injuries in 2003. Meyen became the first athlete, male or female, to four-peat in a single discipline in Winter X history, but had her title taken by Anderson while she was out with an ankle injury in 2007. Whether Anderson will go on to break or continue this cycle remains to be seen. She has experienced significant injury earlier than usual in her career, but it hasn't seemed to slow her down. And at 19 she's still young enough that it's safe to say she hasn't come close to discovering what she's capable of yet.
One thing that Anderson does share with Meyen and Dakides is the lack of a consistent rival to provide serious competition. She also shares the sentiment expressed by both women at the peak of their rules: Meyen and Dakides longed for someone to challenge them and keep them from ever playing it safe in contests. Anderson thinks that Czech newcomer Sarka Pancochova has potential to be that rival: "One of the only girls who can really beat me — when she lands — is Sarka. She beat me in qualifiers at the Dew Tour and then fell in the finals, which was a bummer."
But the fact remains that Anderson is simply running pretty far ahead of the rest of the slope pack, which leaves plenty of room for irreverence at the top of a course. It begs the question, though, that if there was more of a matchup in slope like there are in women's pipe, maybe the vibe would be a bit more intense there, too.
"I think it's getting better now that they've eliminated the small kicker option in slopestyle courses, and women have to step up and hit the same big kickers as the men. There's been a lot of progression … but, yeah I really don't know," Anderson says when asked why there is such a consistent lack of serious challengers in the world of women's slopestyle. "Maybe [some girls] just do [contests] because they feel like they have to for their sponsors and they're just not enjoying it. And if they're not enjoying themselves, then how can they really do their best?"
And this, more than anything, may be the crucial difference between Anderson and the rest of the field: she honestly loves slopestyle contests — not the winning, mind you, but the actual contest itself. "I'm so happy to just be there riding with all my friends that winning's not really that big of a deal with me," says Anderson.
That's a claim that might be easier to dismiss if Anderson didn't have a crew of like-minded women whose primary directive is to always remind each other that nothing should be taken so seriously that it stops being fun.
"'One Life' is this phrase that Chanelle always said, and it just sounded good," explains Anderson. "You know, one life, you've got to live it to the fullest every day. It just became the name of our crew — the One Life Crew. It's me, Chanelle, Marie France Roy, Bev Vuilleumier and Kjersti Buass. We travel together, we play together. We even have a rule book."
"Whenever someone gets too serious, we call it out. That's a big rule," says Sladics. "We actually say, 'Whoa. X Games.' Because it's funny what the pressure to win will bring out of you, so we just don't let it take over." Thus the binding prank. "People don't do that," Sladics adds. "They usually draw a line where the fun ends and the serious begins. But for us there is no line. EVER."
The importance of this philosophy to Anderson's riding ability cannot be overstated. That she will most likely place first in an event is an easy bet to make, but just how she'll do it is directly influenced by how much fun she's having that day. Case in point, Winter X 2008, which she won with a cab 7 — a trick she'd only landed once before, that day, during practice.
"I just had such a good day going," says Anderson. "I was listening to good music, riding with my friends and was motivated to try new things, so I just went for a cab 7 [during practice] and landed it the first try. Then I tried it in my first run, but I fell. It was definitely a risk to try it again because I could have fallen again and gotten last place, but I decided to go for it, landed and won instead."
While there has been a tremendous amount of progression in the level of riding in women's pipe over the past few years, it is still hard to imagine anyone throwing a trick into her contest run that she had only landed for the first time that morning. And while the Olympics no longer hold the stigma in snowboarding circles that they did back when Terje Haakonsen was boycotting them, there remains a certain dissatisfaction with the way the Games portray the sport. After all, when the world turns its eyes on the Olympic halfpipe, they're only seeing a small part of the snowboarding picture. And no one in that picture frame is bringing quite the same level of joy and abandon to the competition venue that Anderson is.
Over in the land of slopestyle contests, there's a party going on, and Anderson and her crew are committed to keeping it rolling. She may have go-to contest tricks, and runs that she knows will win if she lands them, but the most fun thing about watching Anderson ride is no one really knows what she's going to do when she rolls into a course. If the day is good and the vibe is right, she may up the ante and throw a trick no one's ever seen in a women's contest before. If she's not paying close enough attention to Sladics, she might just walk right out of her board and somersault down the start ramp. Either way, as far as Anderson is concerned, it's just another day of fun snowboarding with friends in the terrain park.
For the entire story, please visit ESPN.com
Posted on: January 18, 2010