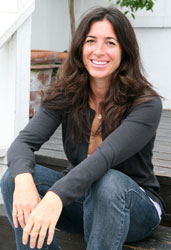 Women at Work
On a Sunday afternoon in June 2006, Amy Stanton settled onto a couch in a plush Bel Air home. Seated across from her was Torino 2006 silver-medalist Gretchen Bleiler. The two had been brought together by a mutual family friend to discuss Stanton's vision for an athlete-representation agency focused on women.
"There are a ton of signs that there is a business behind women's sports," Stanton said. She told Bleiler she wanted female athletes to be role models for young girls, not celebrities like Paris Hilton.
The concept struck a chord with Bleiler.
"I'd never felt completely on the same page with anyone I'd worked with at that point," Bleiler said. "She had a big-picture idea of what she wanted to accomplish with female athletes. That drew my attention."
Bleiler, who was an Octagon client at the time, signed with Stanton not long after the meeting. Since then, the two have worked to build a business around Bleiler that will be on display today when Bleiler takes to the halfpipe in snowboarding.
For Stanton, the Vancouver Olympics mark not just an arrival but also a return. She was the marketing director for New York's failed bid to host the 2012 Olympics. She subsequently worked as the chief marketing officer for Martha Stewart Living before leaving to start a sports agency. (Initially, Stanton partnered with Olympic agent Sheryl Shade, but the two split up in 2007 and Stanton moved from New York to Los Angeles.)
Bleiler was Stanton's first client. She signed with Stanton in June 2006, and by that fall they had negotiated a deal with BlackBerry that resulted in Bleiler being featured in a media campaign that included a Times Square billboard.
A Nikedeal followed. The company was looking to bring Bleiler on for their training program. When they decided to develop an ad campaign around their female athletes, Bleiler became one of the stars of the campaign. She stood before a large, white megaphone in an empty room, saying that halfpipes "thrash the girls just as hard as the boys."Stanton later helped Bleiler build a signature deal with her longtime partner Oakley. As a result, Bleiler became the brand's first signature line of female apparel, and she's been a centerpiece of the company's advertising ever since.

But the most innovative sponsorship Stanton developed for Bleiler was around the Snow Angels Invitational, a female snowboard competition Bleiler wanted to develop. Stanton approached Unilever and P&G about title-sponsoring the event. Unilever offered to title-sponsor it for one year, but P&G offered to sponsor it for three years. The CoverGirl Snow Angels Invitational debuted in 2008 and will take place again this year.

"What was important to me and P&G was that if we were going to ingratiate into action sports, it had to be done with authenticity," said Jason Dial, P&G's former director of global sports marketing. "That was a key element Amy never lost sight of. She is a marketer and understood how to create an event that appealed to athletes and delivered brand results."

Ahead of the Vancouver Games, Bleiler has been featured on Coca-Cola cans and at retail nationwide. AT&T also is showcasing her in a commercial that features Bleiler launching into space on her snowboard. The commercial is airing repeatedly during NBC's broadcast of the Games.

Stanton won't be the only female sports agent on the side of the slopes during today's event. Circe Wallace of Wasserman Media Grouprepresents Australian snowboarder Elena Hight. Both will be slopeside at the men's and women's snowboarding halfpipe event.Since signing Bleiler, Stanton has signed eight more female action-sports athletes, nine other athletes, and two marketing consulting clients, the Century Council and Pure Bar. Her agency has grown from a one-person shop to having four full-time employees and three part-timers.

With Bleiler competing in what could be her last Olympics, Stanton expects to turn her focus in the future to some of her younger athletes, like Jamie Anderson and Maddy Schaffrick.

"I see the two of them as the future of the sport," Stanton said.

For more, please click here.

Souce: bizjournal.com
Posted on: February 16, 2010