Greteview
With a pile of Winter X medals in her trophy case, including a Slopestyle Bronze from this year, 23-year-old Grete Eliassen is no stranger to pushing the limits of women's freeskiing. This April, Eliassen took her sport and herself to unprecedented heights when she boosted 31 feet-the greatest height ever reached by a female skier-out of a custom hip at The Canyons ski resort in Park City, Utah. You can see the record air in Grete's two-year film project, "Say My Name," available this fall on iTunes.
ESPN Action Sports: Red Bull's press release refers to your record hip air as a "monumental personal goal." Where did goal come from? What possesses a person to do such a thing?
Grete Eliassen: I have always liked jumping and I've been hitting bigger and bigger jumps every year since I was little. The first time I hit a hip was at Åre Freeride Week in Sweden. I went pretty big there and then I just continued to really like hips. Because hips are semi-safe, where you take as much speed into them and pop as hard as you want.
Last year, Red Bull asked me if there was any type of special project I wanted to work on. The first thing that came to my mind was building a really large hip and try going as big as I could. I had always seen the boys make rather large hips with resorts, but I was never invited to those sessions. So I decided to do it myself with Red Bull.
rete Eliassen pushes women's skiing to new heights-31 feet to be exact.
How long did it take to work up to 31 feet? And were there any problems that you had to overcome, besides just working up the nerve to go that big?
We had some weather issues the first few days we were building the hip. The first day I hit it I only did it 10 times without hitting the heights that I was wanting and I realized I had maxed out the jump. I had the lip fixed a little bit that evening and decided to do it again the next day. The next day I hit it 12 times. Every time I was going really big so my legs were definitely getting tired.
My brother, a snowboarder, was on top getting me psyched, and my sister was on the bottom by the landing. I kept thinking to myself, "Just one big jump and that's all it will take." If my legs did not get so tired I would have hit it all day.
When Simon Dumont set his quarterpipe record, it was clear that he was relieved to be done with what ended up being a very scary process. Do you feel similar looking back? Or would you do it again?
Hitting hips is my favorite thing to do in the terrain park. If I could ever build another hip like the one in The Canyons from last week, I would do it for sure.
Why is this an "unofficial" world record? You are a woman, and you did reach a height that no woman has reached before on a hip jump. What keeps it from being an official world record?
I am not sure who or what even makes a record "official." I just always wanted to go big and have someone take a photo of me so I could show my friends and kids one day.
Where and when can people see the huge airs in question, and perhaps more of the process that went into them?
People will be able to see all the hip action this fall on iTunes under the movie's title, "Say My Name."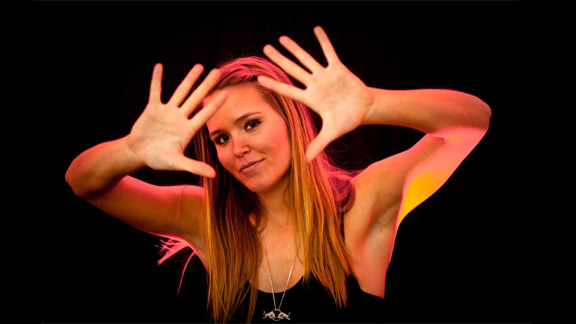 Photo: Stan EvansSee more Grete in her upcoming movie "
Say My Name
," dropping this fall on iTunes.
You're off to Whistler now. What are you doing there?
I'm competing in the Orage Masters for team Volkl. This contest is the anticomp in skiing and it's been a couple years since I have done it. It's going to be so much fun!
You said earlier that the hip air sprung out of a special project between you and red bull. Do you have any other special projects in mind for the future?
Yes. I have a few ideas and right now is the time I am starting to brainstorm for next year. But right now I'm working really hard on finishing my movie, "Say My Name."
Where have you been in the past two years of filming for "Say My Name"? What should your fans expect to see in it?
I have mostly been in the Utah backcountry on the snowmobile and we have also traveled to Jackson Hole, Aspen, California, and British Columbia.
Viewers of "Say My Name" can expect to see every type of skiing that I do: big mountain, kickers, urban, and park features. On iTunes in the Fall under the title, "Say My Name."
For more on this story, please visit ESPN.com
Posted on: April 20, 2010