Can Lashinda Demus Get It Done in an Olympic Year?
Back to the hurdles to highlight the USA's best hope on the women's side in the 400m hurdles, Lashinda Demus.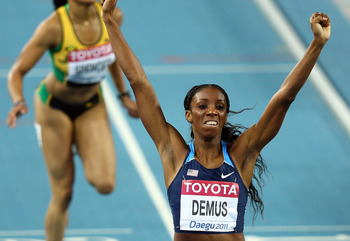 Demus has been running exceptional marks in her event going all the way back to 2005, but it finally really all came together in 2011 when she ran a superb 52.47 to claim the Gold (3rd fastest of all time) at the World Championships.
A possible reason for that personal best and standout performance was a more measured approach to racing in Europe. Demus made fewer appearances in Europe and made each one count instead of maximizing her earning potential and trying to knock out everyone.
At the end of the season, she looked fresh, and her stellar championship race likely will have her trying to replicate that formula this Olympic season.
Standing in her way both in Rome and almost certainly in London will be the 2008 Olympic Champion, Jamaican Melaine Walker. With almost identical personal bests and considerable Championship credentials for both, this figures to be a fierce battle for the honors in London.
Other strong competitors going in Rome include the Russian Natalya Antyukh and Walker's Jamaican teammate, Kaliese Spencer.
For more on this story, click here.
Source: bleacherreport.com