Lashinda Demus hurdling motherhood, racing with success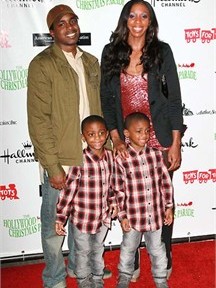 The way Lashinda Demus chases her sons Dontay and Duaine around the track after practice, you can tell that she loves being a mother as much as she loves being a professional athlete.
She wasn't always so sure she would be.
After making the Olympic team in 2004 and the World Championships team in 2005, Demus rose to No. 1 in the 400m hurdles world rankings in 2006 and appeared to be setting herself up nicely for the build-up to the next Olympics.
Then in 2007, she learned that she was pregnant with twins.
"I was at the top of my career at that point," Demus said. "So I wasn't really looking to have a child, let alone two. Everybody was looking for me to do great things, break records and all this other stuff that I believe that I can do too. And it kind of was put to a hold. "
Demus battled postpartum depression, unable to deal with the sitting around or the questions about her whereabouts on the internet message boards and blogs. It wasn't until she had her first sonogram, five months into her pregnancy that she was able to snap out of it.
"I was in this dark hole thinking that the biggest thing that I wanted from my life, to be a professional athlete, was taken from me," Demus said. "I questioned the timing, like 'I always wanted kids, but why did they have to come now?' Then I was mad at myself for being mad that I was pregnant because it's not my babies' fault that this happened."
Demus gave birth to the boys in June of 2007 and trained relentlessly for a year to shed the 50 pounds she gained during pregnancy in time for the 2008 Olympic Trials. When she got there, Demus could feel her body getting weaker by the round, and in the final she faded to fourth in a blanket finish, missing out on a trip to Beijing by just .15 seconds.
"I was in first place coming off the last curve, coming home," Demus recalled. "And one by one, everybody passed me. And it wasn't until about five meters before the line that the last spot was taken away from me. So it was, it was a horrible feeling and I cried for about a week or two straight literally every day. I think I even lost some weight."
Demus said she was embarrassed and mad at herself because media outlets had focused on her comeback from pregnancy and then she was unable to deliver at the Trials.
But then she looked at Duaine and Dontay.
"The only thing that kept me going was remembering that I have kids," she said, "and that leaving a legacy for them was important."
To begin crafting that legacy, Demus turned to the one person largely responsible for her becoming an athlete, her mother Yolanda Rich.
Rich was a professional runner in her own right, but struggled to make ends meet. He Olympic dream was extinguished when President Jimmy Carter ordered the boycott of the 1980 Olympics. Rich tried to continue running after having Demus but needed to give it up to support her family.
"When my mom was competing, she told me that they didn't make money how we do," Demus said. "She kind of had to have a job and train. And it was real difficult for her. So I believe that she didn't really reach her full potential because she stopped running at a young age, maybe 23 or 24."
Demus and her husband/agent Jamel Mayrant had moved from South Carolina to Southern California to be closer to family after the twins were born. At first she was hesitant to ask her mother to coach her because she knew how demanding she would be and that she would be training alone.
But after not making the team in Beijing, she knew that tough love was what she needed.
"She's a strong woman," Demus said of her mother. "Tough as nails. You would never think that she cares as much as she does because she's not a real emotional person. But she shows her love in a different way."
So mother and daughter began forming a new relationship – athlete and coach.
"I call her M.C. at the track, Mother Coach," Demus said. "On the track, she treats me as an athlete and I treat her as my coach. I have said that she has perfect honesty. So things I don't like and things I like, she'll tell me either way. I love that she has my best interest. When we leave the track, when it's all over, I say, 'Mom!' and she comes back to being a mom again."
With her mother's training taking hold, Demus went back to looking like her pre-maternal self in 2009 when she ran the second-fastest 400m hurdles time in the world and won her second career silver medal at the World Championships in Berlin.
The progress continued in 2010, when she won three Diamond League races and clocked the fastest time in the world, 52.82. Last season, Demus reclaimed her No. 1 world ranking with a victory and American-record time of 52.47 in Daegu.
"After I finished my race," Demus said, "I just remember kind of exhaling and looking down and saying, 'Finally!'"
She is optimistic that greater success lies ahead this summer in London. Achieving her goal of becoming Olympic champion will be difficult, but she knows it is not as tough as what she does every day.
"Having the twins showed me that there are things in life much easier than raising kids," Demus said. "Trying to be an elite athlete while being a mother to twins is difficult — but it's all I know."
And it's what she loves.
For more on this story, please click here.
Source: www.nbcolympics.com
Posted on: June 28, 2012