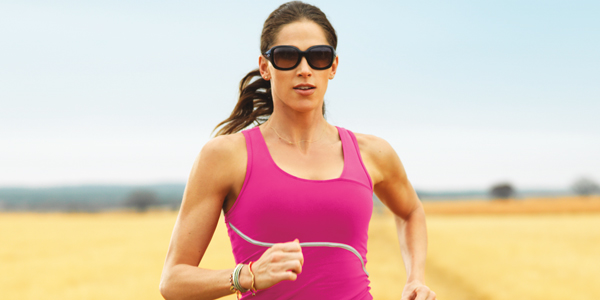 Triathlon Training Tips from Oakley Pro Jenny Fletcher!
In honor of the NYC Triathlon coming to town this weekend (look for me!) I met up with pro triathlete-and former FITNESS magazine cover model-Jenny Fletcher. An amazing athlete from a young age, Jenny had the looks for the runway and hit the modeling scene in her teens, but her passion for sports never fell to the wayside. From competing in pentathlons, to running and eventually falling for the triathlon, Jenny always kept fitness and exercise at the top of her list in life. Today she travels the world as a pro but spent some time with me to talk shop at Oakley's Perform Beautifully retreat last weekend in Napa!
How do you treat yourself the week before the triathlon?
I always love to get a manicure and pedicure with fun colors to make me smile when I'm racing!
Do you have any superstitious rituals?
None yet. I always like to mix it up so I don't start to panic if something doesn't happen.
First thought to come to mind the morning of race day when you first wake up?
"Oh boy… Here we go! Let's do this!" Kind of funny that I say we… Not quite sure who I'm talking to!
What is your must-have gear for race day? And the one item that changed the game for you?
Pretty much the basics for the race, but I would have to say the new TYR goggles are amazing as they don't fog up and don't break as easily as others.
How do you cut down time during transition?
I set up T1&2 to flow as smoothly as possible. Everything is placed in strategic order. Shoes attached on bike with rubber bands, helmet on arrow bars, sunglasses inside. I run in from swim (wetsuit already pulled down to waist) and strip off my wetsuit. Then throw on my glasses, helmet and grab my bike and I'm outta there! For T2, I dismount with my shoes left on bike, mount my bike, take my helmet off, slip into my shoes, strap on my race belt, visor, and gels and run out as strong as I can. It sounds like a lot of steps but it all happens so quickly!
What's in your triathlon gym bag?
For swim training: I have a TYR swimsuit, cap and goggles, paddles, finger paddles, pull buoy, band, towel, shampoo & conditioner, lotion and sunscreen.
For the bike: It's Clif gels, cycling shoes, zip lock bag for phone and money, Kask helmet, Mission sunscreen, Oakley sunglasses, water bottle and Garmin Edge 800.
For running: Clif gels, Mission sunscreen, K-Swiss shoes, Oakley visor, Garmin 910xt watch, Oakley running gear, optional headphones for music and a water bottle.
Random thing you think about during the swim to kill time?
Sometimes I'm just counting lengths, thinking about my stroke, how it feels, focusing on form and feeling the power in the water. Or I'm telling myself to relax and feel strong, and that no matter what think about how good I feel. Other times, almost anything pops into my head, like what I'm going to have for breakfast, how I can't wait to have a nap, or things I need to do for the day!
Favorite leg of the race -swim, bike or run-and why?
Not sure I have one favorite part, I kind of love it all. That's why I do it! It's the perfect mix of sports.
Tell me about being an athlete and into sports growing up? How do you think this prepared you for the world of triathlons?
I loved any and every sport. Dancing, basketball, volleyball, track, cross country running, riding my horse, fencing, swimming, shooting… I always knew I wanted to be an athlete. Now it feels like I'm doing what I was born to do!
Did you learn anything in modeling that helped you be a better athlete?
Modeling set me up well for being an athlete. Even though training is consistent, my life is constantly changing with having obligations, events, and races. It allows me to flow easier into different things.
It also made me a chameleon. I can change every day. It's perfect for a multifaceted sport that changes from swim to bike to run. I am a swimmer.. T1… Now I am just a cyclist… T2… Now I'm a speedy runner…. Finish line… Now I'm a fellow athlete, sponsored athlete, friend, me.
Favorite workout outside of triathlon training?
Just got into bouldering. So fun!
What's a typical gym routine like for you?
I focus on strength training with the TRX and also doing basic things like planks, abs, and ball stuff.
What races are you preparing for this triathlon season?
Well I've already completed 6 races! I may have one this weekend, the Boulder 5150, if I feel it is a wise choice for me to compete.
Next weekend is Lifetime Fitness in Minneapolis. Afterward, I have a break as I'll be heading over to the Olympics to do media blogging and interviews for ESPNW/Oakley. The last half of this year is T.B.D!
I hear marathon training for the NYC Marathon 2012 is on your list. Have you done this before? If so, favorite part of this race and what are you excited for the second time around?
Yes, I haven't announced it yet, so here is the announcement! I have only run one marathon and it was the NYC marathon in 1999. It was just for the fun of it, I barely trained and mainly had only done 10k races before. When I got accepted I thought why not. I experienced what it meant to hit the wall at mile 20. When I finished I said I'd never do one again, but 13 years later I decided it's time. If I ever want to do an Ironman I better start running for it!
Is the Ironman at Kona on your bucket list? If so-what's your goal?
Yep! I aim to do it before I'm 40! I still love the Olympic distances and the 70.3′s but I know I won't be satisfied until I try it once.
Do you have any advice for someone who is doing her first race this weekend (NYC triathlon is on Sunday July 8!) and for someone tackling the race for their 2nd, or 3rd time?
First timers
Have fun! The Hudson River will carry you downstream. The bike is harder than most people think, so pace yourself. Run the first 3 miles at a hard pace if you can. It will set you up well for the second half even if you are tired. It's usually hot and humid, so hydrate the day before and make sure you drink enough while on the bike.
2nd/3rd Timers
Run the swim to T1 hard. You can make up so much time there.
Bike out to halfway hard. The way coming back is easier.
Run that first mile going across 72nd like it's your last. Thrive on the spectators cheering then settle in. The north part of the run is tough, so focus one mile at a time and keep thinking quick feet, especially on those climbs.
Amazing tips! I'll be keeping those in mind on Sunday! So how do you unwind after you've completed a race?
I love post brunch with friends! I crave drinks right afterward, but it takes me a while to be able to eat. When I finally do get hungry I will eat anything! I love second breakfasts.
What's your favorite triathlon moment so far?
Turning pro and legitimizing myself as a competitive athlete. Also, having all the best sponsors in the world supporting me: Oakley, Garmin, BMC, RoadID, Kask, American Classic, Clif Bar, TYR, Mission, Triathlon Lab, and K-Swiss shoes. The fitness community is amazing!
What's your "fire you up" mantra?
Everything is I CAN!!
For more on this story, click here.
Source: fitnessmagazine.com
Posted on: July 12, 2012