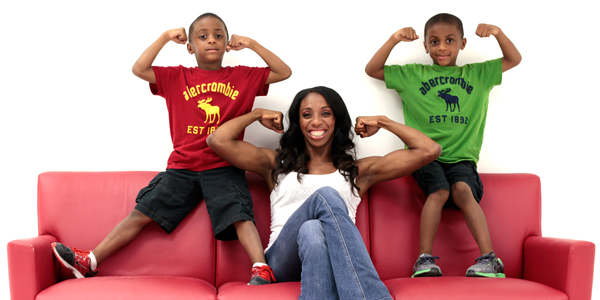 Going for the Gold
We're rooting for these Olympic hopefuls to win for team U.S.A. this summer. But their biggest fans — and prime source of motivation — are their own young kids.
Meet Lashinda Demus
A mom of 5-year-old twin boys, from Los Angeles, she holds the American record for 400-meter hurdles.
Parents magazine: How did being an athlete prepare you for motherhood?
Lashida Demus: In track, you win some and you lose some, but you still have to keep working. It's the same in parenting. I was depressed at the beginning of my pregnancy, which my husband and I hadn't planned, because I was worried that it would mean the end of my career. But after seeing the twins moving in a sonogram, I was able to turn my depression into motivation.
Parents: What is the biggest challenge of being a mom athlete?
LD: When I have to be away from my boys for a month at a time, I have to fight feelings of being an unworthy mother and know that what I'm doing is enough and what I'm giving is enough.
Parents: How has being a mom made you a different athlete?
LD: In the past I was driven more by money, but now my priorities have changed and I want to leave a family legacy for my boys.
For more on this story, please click here.
Source: www.parents.com
Posted on: July 17, 2012