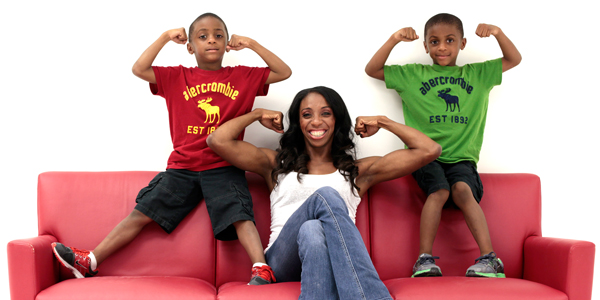 Demus Hurdles Adversity to Reach Olympics
The Palmdale resident's comeback has been fueled by the support of her family
After a disappointing showing at the 2004 Olympic Games in Athens and failing to make the U.S. team in 2008, hurdler Lashinda Demus believes she is ready for another opportunity.
"I feel like this is my second chance," Demus said while getting in one of her final practices before heading to London. "I know what to expect. I'm more prepared, I'm a better athlete, I'm more mature and I have a family to share that experience with. All around it's just a whole better deal for me."
Video will be added.
A four-time USA Outdoor 400-meter hurdles champion, Demus battled fatigue and postpartum depression after giving birth to her twins, Dontay and Duaine, in 2007.
"I had a horrible pregnancy," Demus said. "I was on bed rest for five months or so."
Demus, 29, rushed to return to the track in time to compete for the 2008 Games.
After leading most of the way at the Olympic Trials, Demus faded from the pack and missed making the Olympic team by .14 seconds.
At that point the Palmdale resident began to doubt whether or not she could compete at an elite level again.
"It was a difficult time for me because I thought everything in my career was going to end," Demus said. "I don't think at that time, being as young as I was that I knew you can kind of have both and do it all."
Only when she returned to California and reunited with her mother, Yolanda Rich, who is also her coach, did she realize the having a family and being an elite athlete was a possibility.
"She was a part of me coming back from my pregnancy," Demus said of her mother. "She went through the same thing. She ran professionally, had a child and came back."
Rich, who was a quarter-miler at Cal State Los Angeles, used her first-hand experience to bring her daughter back to an elite level.
"I tell her you'll get through it," Rich said. "It's going to be slow, but you'll get through it. When you've been there, done that, it's easier to get someone to listen to you."
Now, after demolishing her competition at the U.S. Olympic Trials and capturing the American record in the 400m hurdles at the World Championships in 2011, Demus is back to being one of the best in the world.
Having gone through the struggle of trying to a find a balance between her family and her profession, Demus believes that the arduous process has made her a better wife, mother, athlete and person.
"I have more patience as a person," Demus said. "I definitely have different priorities when it comes to my career and with what I want in life since having kids and being a wife. I want to leave a legacy for my family. I want my grandkids and great grandkids to see what I've done."
To watch the video of Lashinda, please click here.
Source: nbclosangeles.com
Posted on: July 20, 2012