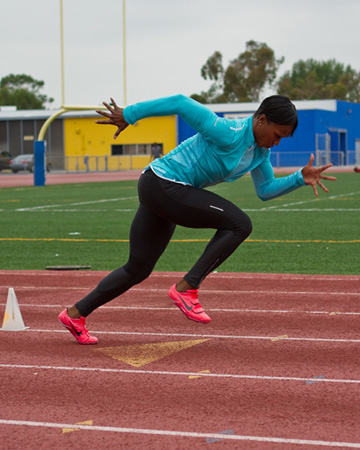 Eat Like a Summer Games Athlete
Gold Medal Diet Tips
We may not be competing in the London 2012 Olympics, but we can certainly live – and eat – vicariously through the elite-level athletes. Instead of simply asking a sports nutritionist to give us top diet tips to train like an Olympian, we turned to four female Olympians to get the dish on how they eat and what they eat.
Carmelita Jeter – Olympic sprinter
The world's fastest woman, Carmelita Jeter, is a track and field world champion who keeps herself in elite sprinting shape by watching what she eats and training hard.
1
Train hard and reward yourself
Jeter's speed and physical fitness are a testament to her training. The sprinter knows her body and how to fuel it for performance. She says she pays close attention to her diet while training and enjoys her carbs. "I usually eat some sort of carbs after training – my favorite is pasta," the Olympian explains. "During competition my diet is a little bit more regimented and includes mostly chicken and rice. My diet philosophy is to train hard and work at meeting my goals so I can reward myself with the types of foods I want to eat when I am not training."
2
Eat foods that work for you
When you start to pay attention to your diet and how it affects your workouts, you can learn which foods give you the most energy and help you recover. Jeter has a few faves that are part of her training regimen: "I cannot live without my granola bars before a race and my Muscle Milk for after. I love eating my cinnamon Wheaties for breakfast." The Olympian also digs into fresh fruit, chicken tacos and pasta with vegetables.
For more on this story, please click here.
Source: sheknows.com
Posted on: July 26, 2012