2012 US TRACK & FIELD OLYMPIC TRIALS…"O" WHAT A TRIP! by Denege Prudhomme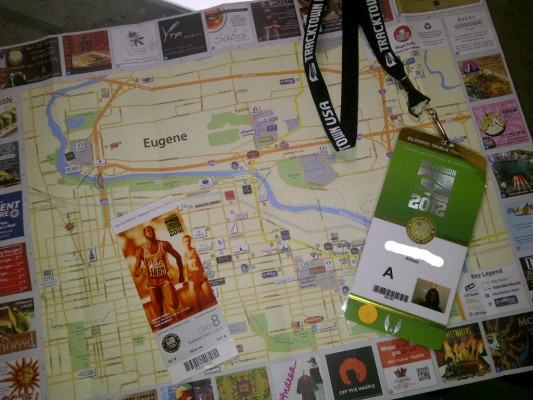 Last month I was lucky enough to experience one of my life long dreams-the US Track and Field Olympic trials.  As a kid, I always dreamed of being there and at 27, I finally accomplished that dream, only not as a competitor, but instead as a fan and an athlete representative.
Many will remember the 2012 US Track and Field Olympic trials as the most anticipated and eventful trials in the history of the sport, but for me it will be remembered as one of the most eventful trips of my career.
Let's start from the beginning so I can catch you up!  My boss and PNC (Partner N' Crime), Amy K Stanton, and I had been planning to go to Eugene, OR to cheer on our client Lashinda Demus (400m hurdler).  We had originally planned on heading out to Eugene on Saturday and being there for Lashinda's final on Sunday.  At this point, I was beyond excited because I was heading to my first US T&F trials, while getting quality catch up time with Amy and additional miles to add to my United Premier status (I'm only a few thousand away from my yearly premier status…if you travel enough you know what I am talking about).
I received a message from Amy on Saturday saying she wasn't feeling well so I was going to have to head to Eugene by myself on Sunday.  First off, no one in their right mind would ever want to drive the 2.5 hours from Portland to Eugene by themselves.  I am small town girl who has driven across the country before, but the only drive more boring than Portland to Eugene is driving across west Texas.  Not to mention that Oregonians are some of the worst drivers I have ever seen!
So, I headed out Sunday morning on the adventure I was not expecting!  After traveling for 4.5 hours to Portland, I went to pick up my sweet ride at the rental car company where I was upgraded to some Chevy SUV.  Little did I know that I would have been better off with a Kia Sephia.
After arriving in Eugene in just enough time to pick up my ticket from will call and get to my seats, the 400m hurdles were starting.  As I sat nervously waiting for the gun to go off, I could only imagine what was going through Lashinda's mind at that time.  This is it, do or die!  I remember something I had told her that an old coach had instilled in me: "motivate the mind and the body will follow."  Bang, the gun goes off!  Lashinda takes the lead and starts to clear each hurdle like a gazelle, ever so elegant and quick.  By the time she came around to my side of the track, she was in a 2-second lead over all the other girls.  I just kept screaming and jumping up and down in the stands, the only one around me doing so and surely looking like a monkey.  Oh well, this was my girl's moment and I wasn't going to just sit there.  She crossed the finish line 1st and I immediately busted into tears, like a proud mom!
One thing I have to mention is that I originally did not have a credential for the event.  Getting a credential through USATAF is harder than getting a credential for the Super Bowl (NO LIE)!  I finally managed to get a credential from a friend, the only problem being that it was a picture of an African American woman and I am a pasty white girl.  Whatever; apparently it didn't matter because I got in…SCORE!
After Lashinda's race, we went to drug testing, did some media and then hung out with her family.  She then had to go register with the USOC and get measured for her uniforms and such so I told her I would just meet everyone afterwards at her celebratory dinner.  As I walked backed to my car, through Oregon's campus, I thought about how beautiful everything was and about how this was a cute, quaint little town.  When I arrived in the parking lot I noticed that my left back tire was completely FLAT!  FLAT, how the heck did this happen? I thought.  It was getting dark and I was stuck alone in a parking lot.   First, I grabbed my phone and tried to call AT&T roadside assistance.  My phone was close to dying so I wanted to get a hold of them before it did.  I repeatedly told the woman that my phone was dying but that didn't seem to matter, because she didn't help me and then my phone went dead right as I was giving her my info (I need to make a call to AT&T customer care regarding this).  So there I was, a young woman alone in a parking lot, in a strange town, with no phone!  I lost it for a second and then realized that the world's smallest violin was not playing a song for me!  I decided to collect myself, say a prayer and try to remember what my daddy had taught me upon getting my license at sixteen.  I was going to change the tire myself!
Forty-five minutes later and I was done!  There were blood, sweat, tears and a nervous breakdown, but I had done it, on my own!  One thing that struck me as funny was that not ONE person that walked by offered to help me, not ONE!  Oregon Ducks are not my favorite, sorry Catherine (except for you and Phil)!  As I was putting the bolts on my tire a couple of guys walked up and asked if I needed help.  I was pretty much done but since they were so nice I let them help me finish up.  Oh, did I mention they were from New Orleans?  Typical, the only two people to stop and help were two gentlemen from my home state!
After returning to my sweet motel, the Courtyard Marriott (yes, I said motel, but that is for another blog), I changed my oil-covered clothes and headed to the nearest/only place for dinner…Outback Steak House!  While sitting at the bar, watching Summer X Games, I met a new friend; lets just call him Daryl.  So there I was on a Sunday night in Springfield Oregon, at the Outback, with Daryl.  Not quite sure what it was about me but for some reason I must have looked like a nice girl who wanted a good conversation and a shot of jager.  Needless to say that after the day I had, that was NOT the case (on the conversation, I never turn down jager).  Daryl proceeds to tell me how he drove a bus of Chinese Tourists across Washington through Oregon and the place they wanted to see the most was a Wal-Mart!  Heck, if that is the case they should have came down to Ville Platte, LA where we have a Super Wal-Mart!  Anyways, an hour later I finally received a call from Lashinda so I was able to scoot out of my conversation with Daryl and go celebrate her big win!  We then went to the next best place in Springfield, Denny's, for some late night celebratory cocktails!
I could go on about my early morning trip to Charles Schwab (shout out to Tyler who fixed my tire), and my 2.5-hour trip back to Portland where my flight was delayed 1.5 hours, but I won't!
I wanted to share my experience with you because it is definitely one I will never forget!  Despite the few bad things I had happen, it could not outweigh the good!  I may never remember the tire change or my conversation with Daryl; but I will forever remember watching Lashinda cross the finish line, receive her Team USA uniform and take her victory lap with her sons…that is something that I will take with me forever!
contributed by Denege Prudhomme, Athlete Public Relations & Marketing for Stanton & Company
Posted on: July 30, 2012