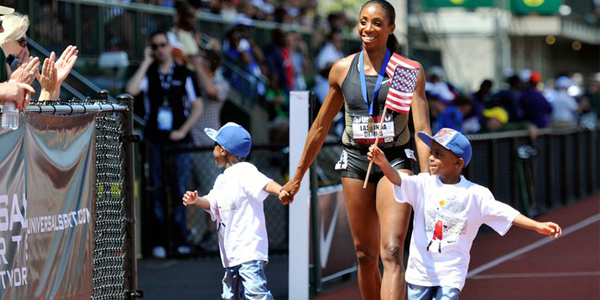 2012 Olympics: Olympic Moms, a documentary series
2012 Olympics, London – Team USA sent 525 athletes to London to compete at the 2012 Olympics. Thirteen are women who juggle their intense training schedules with the daily demands of another job: being a mom.
The documentary film Olympic Moms spends a day in the life of each of these moms, from breakfast airplanes to grueling workouts and back for bedtime stories. Changing diapers, chasing toddlers, winning Olympic medals – they are all in a day's work for these extraordinary athletes. The women featured include basketball powerhouse Candace Parker, track and field stars Lashinda Demus and Chaunte Lowe, pentathlete Mickey Kelly, filed hockey player Keli Smith Puzo, indoor volleyball teammates Danielle Scott-Arruda and Tayyiba Haneef-Park and equestrian show jumper Laura Kraut.
Series Description from https://www.facebook.com/OlympicMomsInTraining:
"Picture an Olympic athlete. Are you seeing podiums, flags, cheering crowds, sweat and tears. How about diapers and pacifiers and midnight feedings? I didn't think so. Many athletes struggle with the demands of their sport; many women struggle to balance the demands of motherhood. To manage both, seamlessly, seems a fete beyond words. Yet that is exactly what 13 women are doing as they prepare for the Olympic Games in London."
For more on this story, please click here.
Source: www.examiner.com
Posted on: August 1, 2012