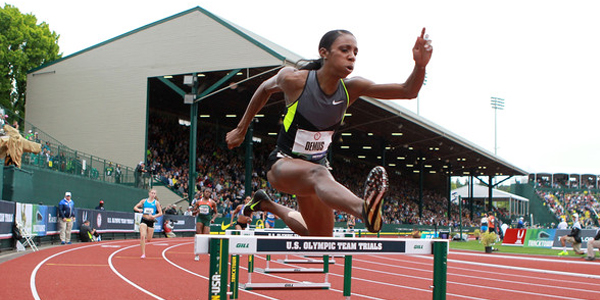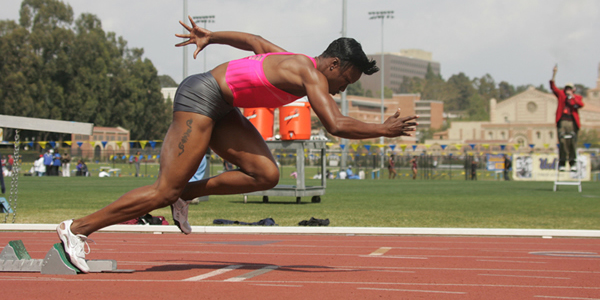 Sports Illustrated – Women's Olympic track preview
Track and field is contested by more nations than any other sport in the Olympic Games. Yet, track-centric events in the women's track and field competition in London will center on a very small number of nations: Ethiopia, Jamaica, Kenya, Russia and the United States, which will dominate the medals from sprints through the distance races.
SPORTS EXPLAINERS: TRACK & FIELD
One notable exception: a small, very fast hurdler from Australia.
Athletes To Watch
At the Beijing Olympics four years ago, Jamaican 100-meter sprinter Shelly-Ann Fraser-Pryce was a 21-year-old with a history of not living up to her considerable talent. That changed when she won the gold medal in 10.78 seconds, a huge PR that made her one of the fastest women in history. She followed that up by winning the world title a year later in Berlin in 10.73 seconds and then struggled for two years before again emerging at the right time with a 10.70 to win the Jamaican Olympic Trials.
She enters London as the favorite in a strong 100-meter field that includes her veteran countrywoman Veronica Campbell-Brown, a two-time Olympic gold medalist in the 200 meters, and Americans Carmelita Jeter, 32, and former long jump world champion Tianna Madison. In the 200 meters, the favorite is Allyson Felix of the U.S., who has twice finished second to Campbell-Brown in that event at the Games.
Like Felix, U.S. sprinter Sanya Richards-Ross is competing in her third Olympics. SRR faded in the stretch and took a bronze medal in Beijing and will be trying to win gold in London over 2011 world champion Amantle Montsho of Botswana. The 800 features defending Olympic champion Pamela Jelimo of Kenya, but also 2009 world champion Caster Semenya of South Africa, 21, who has been at the center of the complex gender debate.
World champion Jenny Simpson of the U.S. and countrywoman Morgan Uceny are among the medal hopefuls in the 1,500, but that event could be dominated by a duo of Ethiopians, Genzebe Dibaba and Abeba Aregawi, and Mariem Selsouli of Morocco, who, like U.S. men's sprinter Justin Gatlin and 400-meter runner LaShawn Merritt, has recently served a doping ban.
Vivian Cheruiyot of Kenya has been the dominant women's distance runner in the world for the last two seasons, but in the London 10,000 she will have to deal with 2008 distance double gold medalist Tirunesh Dibaba of Ethiopia and in the 5,000 with 2004 gold medalist Meseret Defar of Ethiopia.
Sally Pearson of Australia is the favorite in the 100 hurdles, where she won a silver medal in 2008 and has only gotten faster, winning a world title in 2011 in 12.28 seconds, the fourth-fastest time in history. However, American Dawn Harper is the oft-overlooked defending gold medalist in the event. Lashinda Demus missed the U.S. Olympic team in 2008 while recovering from the birth of her son, but she won the 2011 world title and will be among the London favorites, along with Russians Natalya Antyukh and Irina Davydova.
U.S. Prospects
Jeter won the 2011 world title in the 100, but will need the race of her life to knock off Fraser-Pryce in London. Madison, who was the world champion in the long jump in 2005, will be a medal threat along with Fraser-Pryce's Jamaican teammates. Felix, twice a silver medalist in the 200 meters, ran a PR of 21.69 at the U.S. Olympic Trials in late June, the sixth-fastest time in history; she is a solid favorite to win her first gold medal at the Games. Richards-Ross is nearing her 2009 form, when she was nearly unbeatable in the 400 meters.
Former Cal-Berkeley runner Alysia Montano's best time of 1:57.37 is competitive for a medal in the 800, but her front-running style can be suicidal in global championship-type races.
Simpson won the world title last summer in the 1,500, kicking off a dawdling pace. Uceny, who fell in that race, probably would have been a serious medal threat, as well, and she's coming off a win at the U.S. Trials. Shannon Rowbury was seventh in Beijing. All three are threats in the London 1,500, but the medal favorites (see above) are capable of running 2-3 seconds faster. The Americans need a slow pace and a kicking tactic.
Four years ago, Lolo Jones was favored and leading the 100 hurdles until she hit and stumbled on the ninth hurdle. She returns with a chance at redemption, after finishing third at the U.S. Trials behind defending gold medalist Harper and Kellie Wells, all of whom will try to take down the favored Pearson. Demus is the reigning world champion in the 400 hurdles and among the favorites in that race. Shalane Flanagan, surprise bronze medalist in the 10,000 in Beijing, is the top U.S. hope in the marathon.
Matchups To Watch
100 meters: Shelly-Ann Fraser-Pryce (Jamaica) vs. Carmelita Jeter (USA)
USA vs. Jamaica. The defending Olympic champion (Fraser-Pryce) against the reigning world champion. The second-fastest woman in history (Jeter) against the fourth-fastest (Fraser-Pryce). A still-young sprinter (Fraser-Pryce, 25) against an aging sprinter (Jeter, 32).
10,000 meters: Vivian Cheruiyot (Kenya) vs. Tirunesh Dibaba (Ethiopia)
Dibaba won the 5,000 and 10,000 in Beijing, taking both races with the withering finish that's become her trademark. Since then, Cheruiyot has ascended to the top position among international women's distance runners. And it's always intense when runners from Kenya and Ethiopia match up on the last lap, the Yankees-Red Sox of distance running.
100-meter hurdles: Sally Pearson (Australia) vs. Dawn Harper (USA) … and don't forget Lolo Jones (USA)
A year ago, in Daegu, Pearson won the world title with a time of 12.28 seconds, the fourth-fastest in history; Harper, the 2008 Olympic gold medalist, was third in that race. And Jones, who crashed while leading the '08 Olympic final, is the most publicized of any U.S. Olympian entering the Games.
Underdog Tale
Jeneba Tarmoh, 22, a former sprinter at Texas A&M, was caught in the middle of the central controversy of the U.S. Olympics Trials when she was declared to have finished in a dead heat with Felix for third place — the final Olympic position — in the 100 meters. Ultimately USA Track & Field declared that a runoff would decide the final Olympic position, but Tarmoh, inexperienced and exhausted, pulled out and gave her position to Felix. Tarmoh is expected to run at least the opening round of the 4X100-meter relay, and possibly the final, if the U.S. reaches it without any glitches.
Fun Facts
The women's Olympic track program has grown steadily since Title IX legislation in the U.S. Until 1972, there were no races longer than 1,500 meters for women. The 10,000 was added in 1988 and the 5,000 in 1996. The 3,000 steeplechase was run for the first time in 2008 in Beijing.
Gold Medal Dates
Fri. Aug. 3: 10,000 meters
Sat. Aug. 4: 100 meters
Sun. Aug. 5: 400 meters
Mon. Aug. 6: 3,000-meter steeplechase
Tues. Aug. 7: 100-meter hurdles
Weds. Aug. 8: 200 meters, 400-meter hurdles
Fri. Aug. 10: 1,500 meters, 5,000 meters, 4X100-meter relay
Sat. Aug. 11: 800 meters, 4X400-meter relay
Read more: http://sportsillustrated.cnn.com/2012/olympics/2012/writers/tim_layden/07/24/london-olympic-womens-track-preview/index.html#ixzz22JeZX9LE
For more on this story, please click here.
Source: www.sportsillustrated.com
Posted on: August 1, 2012