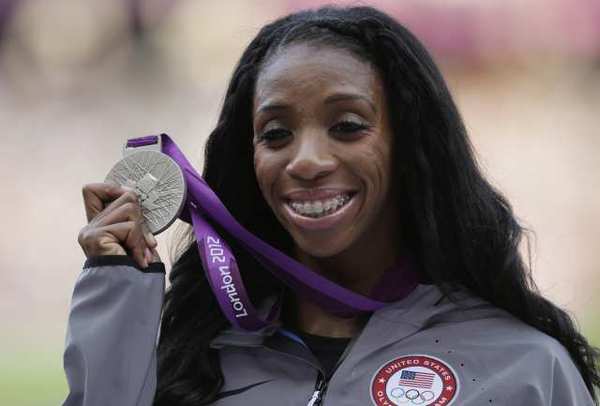 After time to think, Demus reaffirms her pursuit of hurdles gold
LONDON – Lashinda Demus cried before her 400-meter hurdles final on Wednesday, overwhelmed by the pressure she had put on herself to reward her friends and family with a gold-medal performance.
The Palmdale resident and Long Beach Wilson High graduate cried even harder after her late charge left her a half-stride behind winner Natalya Antyukh of Russia and she vowed to return in 2016 to go for the gold.
Later, she went to her Twitter account to share her disappointment with her followers. "I feel like I let you guys down," said Demus, the American record holder in her event.
But her 5-year-old twin sons might have had the best perspective on what was – and is – a remarkable achievement.
"My kids didn't believe me when I told them I lost. Lol," she said on Twitter. "They corrected and said, 'No you didn't mommy.' So I will live to fight another Olympics."
Demus, 29, didn't win a medal at her first Games, in Athens, and she didn't make the 2008 team because she hadn't quite gotten back in shape after giving birth to sons Duaine and Dontay. She won the world championship last year but developed a hamstring problem this spring that cost her some training time. However, she still won the Olympic trials and easily reached the final here.
Since her silver-medal finish in a time of 52.77 seconds, the second-fastest in the world this year, Demus has had more time to think about her goals and her future. She's thankful for the medal she won but repeated Friday that it has spurred her to continue pursuing that elusive prize.
"I'm an athlete, so coming to the Olympic games you don't come to get anything but the gold medal. Every athlete would understand my emotions of coming so close to achieving a lifetime dream," she said. "I always hope to show pride for my country and the best way to show it is to prove you are the best competing for the best country. It just matches better.
"I'm very grateful to stand on the podium with my silver medal representing the United States but I refuse to be complacent with not winning the gold. I want to prove to myself and my sons growing up watching me that I am capable of being the best. I always say that saying that you are No. 2 in the world is an honorable thing, but imagine what a gold medal says."
For Demus, winning a gold medal would check off a significant item on her to-do list.
"I have a bucket list within my track career," she said. "One: American record. Two: world record. Three: world champion gold medalist. Four: Olympic gold medalist. I've done two out of the four.
"I feel in life in general, everybody has either a five-year plan or things they want out of life to make you feel that you aren't aimlessly going through life. I want all this work I've been putting on the track since I was 5 years old to be for a reason. It brings passion to my lifestyle.
"What's important to me is leaving a legacy for my little boys to remember. It's important for me to show them greatness and reveal to them exactly how you achieve it so they can relay that message to their kids and keep the family legacy of greatness going in whatever they decide to do."
For more information, please click here.
Source: LATimes.com
Posted on: August 10, 2012