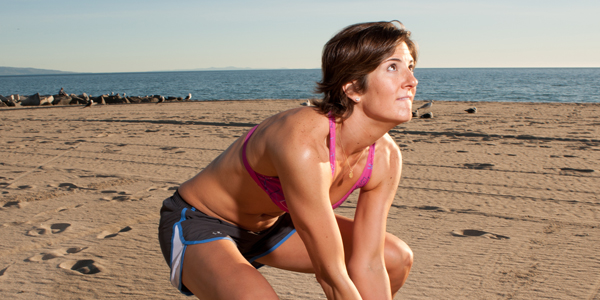 Olympic Silver Medalists Jen Kessy And April Ross Top 3-time Gold Medalist Kerri Walsh And Nicole Branagh In AVP Championships' Fan-tastic Rematch Of The 2012 London Olympic Beach Volleyball Finals
SANTA BARBARA, Calif., Sept. 9, 2012 – /PRNewswire/ — Southern California sports fans were treated to a dramatic follow-up to the 2012 London Olympic beach volleyball gold medal finals today when 3-time Olympic gold medalist Kerri Walsh and new partner Nicole Branagh (2 seed) faced off with silver medalists Jen Kessy and April Ross (1 seed) in the finals of the 2012 AVP Championships in Santa Barbara, CA.
Kessy and Ross prevailed over Walsh and Branagh, 21-19, 21-16, going undefeated throughout pool play and semi-finals to claim the $47,500 women's title share of the 2012 U.S. record $225,000 prize purse. Their AVP Championship title win comes on the heels of last weekend's hard-fought victory over Walsh-Branagh in the $175,000 AVP Cincinnati Open.
"This weekend was just the perfect showcase for beach volleyball … Santa Barbara was absolutely rockin', and we're just thrilled to get our first victory ever here," said Jen Kessy. "Fans here really understand the game and the pain, sacrifice, skill level and grit it takes to advance in a quality field like this." "Thank you and welcome back AVP – we need more of these next season."
"Today's win was just like winning a grand slam event overseas, only sweeter because it's on American sand," explained April Ross. "Players are calling it the Super Bowl of our sport, and if you were here, you understand why," she added.
On the men's side, hometown favorites and 2012 Olympians Sean Rosenthal and Jake Gibb (6 seed) engaged in a best of five finals battle with Brad Keenan and John Mayer (4 seed). Gibb and Rosenthal won in dominating fashion in straight sets, 21-16, 21-16, 21-18, taking home a total prize amount of $42,500.
Gibb and Rosenthal bounced back Sunday after dropping their final pool play match Saturday to John Hyden and Sean Scott. Gibb and Scott took down Phil Dalhausser and Todd Rogers in the wild card play-off match Saturday afternoon to stage a re-match with Hyden and Scott in the semifinals. Gibb and Rosenthal pulled out a thrilling three-set victory, dropping the first set 19-21 before taking the next two, 21-18, 15-13, setting up the showdown with Keenan and Mayer in the finals.
"The quality of play at this AVP event was just out of sight," said Sean Rosenthal. "Nobody was giving quarter, and every point was hotly contested throughout the entire weekend. This was just a monster win in front of our home crowd … the crowd was just pumping and really kept us energized throughout some brutal matches," he added.
"We were so stoked to be here today and a part of these two new AVP world-class events," said Jake Gibb. "It's an incredibly important step for the sport, especially in connecting with new young fans who get to see close-up the best player competition in killer stadium experience."
Tens of thousands of fans experienced the AVP's new Olympic-style stadium seating throughout the three day weekend, the same optimal viewing set-up fans experienced at Horse Guards Parade at the London Games last month. The AVP Championships webcast was streamed live all weekend on www.cbssports.com and www.avpchampionships.com.
"We couldn't be more proud and excited by the way the weekend unfolded – for the players, fans, marketing partners and the city of Santa Barbara," said new AVP owner Donald Sun. "It was everything we hoped for, and sets the stage for what promises to be an incredible new AVP Tour for the 2013 season and beyond," he added.
For more on this story, please click
here
.
Source: heraldonline.com
Posted on: September 10, 2012