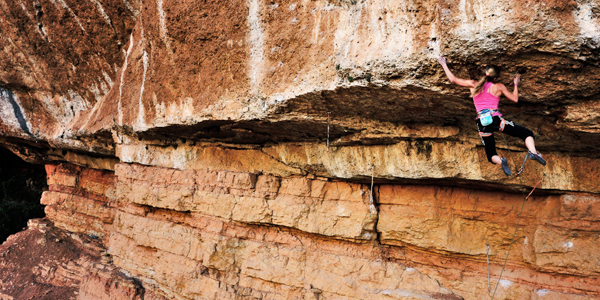 Dare to Know: Sasha DiGiulian Is Solid as a Rock
The most impressive souvenir most of us bring home from a child's birthday party is a balloon animal or temporary tattoo. For Sasha DiGiulian, that "goodie bag" was a new hobby-one that transformed into a competitive sport, then snowballed into a career as a professional athlete. Sasha was just seven years old when she discovered her secret talent for scrambling up rock walls at a local climbing gym. Over a decade later, she's now the world champion female climber, the first woman ever to ascend Spain's gravity-defying Era Vella…and an incoming freshman at Columbia University.
"Climbing was where I found my passion," recalls Sasha. After dabbling in sports ranging from soccer to ballet to figure skating, what convinced the multitalented athlete to trade ballet shoes for belay ropes? "I look forward to training!" proclaims Sasha, who spends two to three hours a day sweating it out. "When work is play – in any aspect of life – you're going to excel the most." Rather than seeing exercise as a necessary penance, Sasha sings the praises of its positive mental and emotional effects. "Exercising just makes you feel really good," she says. "The days I go without doing anything physical, I feel so groggy."
Indeed, the peak fitness level required to excel at rock climbing has greatly influenced Sasha's personal investment in her health. In a society where extreme thinness is often championed over genuine fitness, Sasha understands the necessity of engaging in healthy habits for the right reasons. "As a serious athlete, it's important to feed your body appropriately. You have to take in enough energy to fuel your exercise," she explains. Sasha's interest in proper nutrition has opened the door to a love of cooking and baking. "You can make a lot of healthy food that's really yummy!" she proclaims. "This morning, I made homemade energy bars in my blender."
Like many athletes, Sasha calls on a soundtrack to help get her in the zone. "Hip-hop is my favorite warm-up music," she says. "Anything upbeat really helps get you in your rhythm. You have to go into a climb in a good mood, because negative energy literally weighs you down." Sasha's other pre-climb rituals include painting her fingernails pink – her longtime signature color – and, of course, scheduling a quality carbo-load. "I eat a big pasta dinner the night before," she says. "That's pretty standard among athletes, I think."
While heights are clearly not a problem for this spider monkey of an ingénue, Sasha's bravery does have its limits. "It sounds silly, but I'm terrified of being in deep water," she admits. "There's something about dangling there with fish swimming around. You don't even know what's under you!" Perhaps it's fitting, therefore, that even Sasha's personal mantra alludes to the climb. "Don't be intimidated to set high goals and aspire to them," she instructs, suddenly stoic. Wise words from this 19-year-old, whose next climb will be higher education. "The greater dreams you set for yourself, the more opportunity you have to improve."
For more on this story, please click here.
Source: womenworking.com
Posted on: September 13, 2012