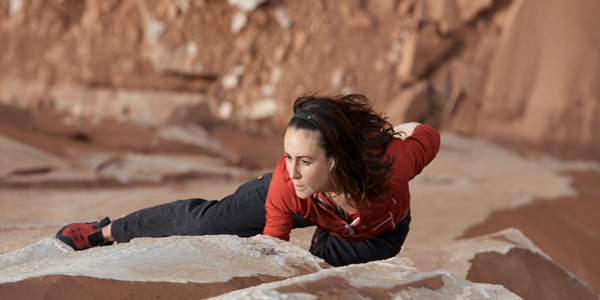 Steph Davis Climbs to New Heights in New Pro-Vegan PETA Ad
World-Class Extreme Athlete Tells How Switching to a Healthy, Humane Diet Allowed Her to Attain Her Peak Performance. Los Angeles — High off the ground, scaling a vertical rock formation, renowned climber Steph Davis appears in a brand-new ad for PETA that reads, "I am a rock climber, a base jumper, and an extreme athlete, and I am a vegan." The ad also says, "A vegan diet is the best thing that you can do for your health, for the planet, and for animals. Go vegan."
"I've been vegan for about eight years. At first, I was just trying to find a better eating style for climbing," says Davis in a video testimonial about her energy-boosting vegan diet, which has benefits that have surprised even her. "After two weeks, I was having performance increases in everything I was doing, including running," says Davis, who is seen climbing and then base jumping from Utah's daunting Hindu Tower in the video.
Going vegan can help build strength, slim the waistline, boost energy, and lower the risk of heart disease, diabetes, and cancer. A vegan diet provides athletes with all the protein, complex carbohydrates, and other nutrients that they need to become stronger and faster—without the artery-clogging cholesterol and saturated fats found in meat, eggs, and dairy products.
Davis, a prAna ambassador, has also designed a one-of-a-kind chalk bag that says, "prAna to benefit PETA." Three of the new bags are prizes in a contest on PETA.org.
Davis joins a grow
ing list of athletes—including Ultraman Rich Roll, Olympic snowboarder Hannah Teter, Ironman triathlete Brendan Brazier, four-time Mr. Universe Bill Pearl, "Olympian of the Century" Carl Lewis, and NFL star running back Arian Foster, among many others—who have gone vegan in order to be at the top of their games.
For more information, please click here.
Source: www.peta.org
Posted on: September 19, 2012