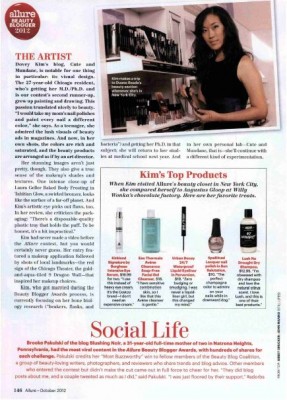 Allure Magazine features SpaRitual
Talent Show
Fifteen bloggers competed to be the Allure Beauty Blogger of the Year. During the contest, they expressed their humor, their originality, and most of all, their opinions. See who took top honors.
The Artist: Dovey Kim's blog, Cute and Mundane, is notable for one thing in particular: its visual design. The 27-year-old Chicago resident, who's getting her M.D./Ph.D and is our contest's second runner-up grew up painting and drawing. This passion translated into beauty.
When Kim visited Allure's beauty closet in New York City, she compared herself to Augustus Gloop at Willy Wonka's chocolate factory. Her favorite polish is SpaRitual's nail lacquer in Sun Salutation, "The perfect champagne color to admire on your nails while in downward dog."
For more information on SpaRitual, please click here.
Source: Allure Magazine
Posted on: September 24, 2012