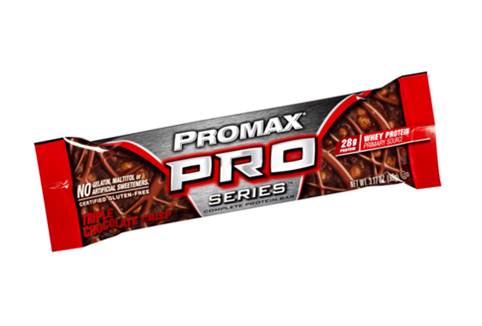 Promax Nutrition Launches the Pro Series
PROMAX® NUTRITION LAUNCHES PRO SERIES™
High Protein Bars with Clean Ingredients for Serious Athletes
Promax® Nutrition (promaxnutrition.com) a pioneer in fitness nutrition, announces the launch of Promax® Pro Series™, a new, higher protein line that is great tasting, gluten-free, and sweetened with Stevia to create the ultimate clean protein bar for those who are serious about weight-lifting and bodybuilding.
The Promax Pro Series caters to a growing consumer demand among serious athletes and bodybuilders for a protein-dense bar with lower sugar content and carbohydrates. Dedicated to fulfilling the fitness needs of all, the brand created an innovative ingredient delivery system that provides the necessary protein for building muscle but with the cleanest ingredients possible. The result: the decadent Triple Chocolate Crisp and Peanut Butter Crisp, both packed with 28 grams of protein, 29 grams of carbohydrates and under 15 grams of sugar.
"Most high protein bars use one or more of three undesirable ingredients to reduce the amount of sugar in their bars; sucralose (an artificial sweetener), maltitol (a sugar alcohol that can upset your stomach) and gelatin/collagen (an incomplete protein made from cows and pigs skins and hoofs)," says Simon Goode, CEO of Promax® Nutrition. "Using our innovative ingredient system, we were able to create a bar without these three and still provide a great taste with a competitive nutrition deck."
In addition to being suitable for those with gluten allergies, Promax® Pro Series bars are vegetarian and contain no artificial sweeteners or preservatives.
Promax Nutrition is known widely for their core line of gluten-free protein bars that are packed with 20 grams of protein, 18 vitamins and minerals, free of artificial sweeteners, preservatives, high fructose corn syrup, trans fats, maltitol and gelatin. The popular PromaxLS, which launched in 2011, offers an all-natural, lower sugar energy bar, sweetened with stevia. The most recent additions for 2012 include, Fit 'n Crisp, a low calorie, crispy snack, and Crunch, an uncoated, high protein bar that won't melt in high temperatures, dedicated to the outdoor fitness enthusiast.
Posted on: September 27, 2012