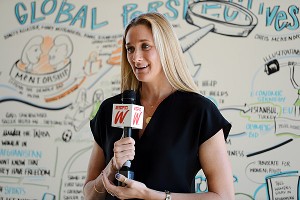 Highlights, questions from the espnW Summit
At its core, the espnW Women + Sports Summit is an annual discussion of who we are and how we got here, and where we want to go and how we might get there. The "we" includes female athletes and women's sports.
After three days listening to and interacting with Olympic champions, marketing experts, social media mavens, global mentors, award-winning journalists, league commissioners, a feminist Heisman runner-up and even a self-proclaimed "futurist," I headed home feeling more educated, inspired and enlightened — but plagued by more questions than before.
Video of some of the summit panels is on our site, but I thought I'd highlight some of my most memorable moments; moments that made me proud of who we are today and moments that made me wonder how we can get where we want to go.
Who we are
There's never a shortage of inspiring moments at the Summit. Whether it's hearing 17-time Paralympic medalist Jessica Long say "I hate the word disabled. Look at me, I'm not disabled. There's nothing I can't do!" to learning the story of Shamila Kohestani, the former captain of the Afghan national soccer team who survived beatings by the Taliban and risked her life to reap the benefits of sport.
Of all the inspirational moments, a few quotes and thoughts stood out:
• "I've been blessed with so much, so my job, in this life, is to max it out."
• "Confidence comes from the way you talk to yourself."
— Kerri Walsh Jennings, who's pregnant with her third child and plans to go after her fourth gold in beach volleyball in 2016.
• "If you wake up and think 'All I've got today is 60 percent of 100 percent,' then give yourself 100 percent of that 60."
• "Personal excellence is something everyone can attain. It's your own game; you're the only one playing."
• "Life is a team sport; it's not about you."
— Sue Enquist, legendary UCLA softball coach and tops on my list of potential life coaches.
• "Ask forgiveness, not permission. But make sure you bring your results with you."
— Amy Jo Martin, founder of Digital Royalty, on taking risks, especially in the brave new world of social media.
"Be a light to help someone else realize their dreams. … Our stories, our youth, our future!"
— WNBA star Swin Cash on the importance of female athletes acting as mentors for the next generation.
Where we want to go
In recognizing some of the most successful athletes and leagues in women's sports, the espnW Summit reflects on our past but also looks to the future. There are still a number of questions to be answered about the state of female sports and the barriers that remain.
• Why didn't the gold-medal winning women's basketball team get the same Olympic bump as other sports like gymnastics and swimming? It won its fifth straight gold and has won 41 consecutive Olympic games, but it wasn't given the coverage some of the other sports garnered.
• WTA players play for the same prize money as the men in the ATP in the majors, and women's tennis is widely considered to be as intriguing and entertaining to watch as the men's game. Why do viewers accept the difference between men's and women's tennis (faster serves, more powerful strokes, etc.) but continue to consider women's basketball an inferior product because they play below the rim?
• Research shows men and women want to consume sports differently (i.e. men want the stats, women want the storytelling). Can we sell them the same product the same way? Do men who watch women's sports want to consume them differently than they do men's sports, or would they prefer a stats-driven, results-oriented approach to women's athletics? Would women prefer to see more storytelling and human interest stories when watching ESPN programming or game coverage?
• Do we still need "sympathetic men" to help advance women's sports? Meaning, do we need men in power positions to push for better coverage and publicity of women's sports because it's "good for women" and not just "good for business"?
•  How will the "she-change" affect how decisions are made? Will the increasing number of women in leadership roles change how women's sports and female fans are treated and catered to down the road?
• How will society's changing view of the LGBT community affect the future of women's sports and female athletes?
•  Do women need to adopt certain traditionally "masculine" qualities in order to exact change and demand respect? As marketing executive Emma Cookson pointed out, women aren't as good at being "arrogant, self-aggrandizing jerks" or "self-promoting narcissists" and "whatever bad things you can say about these qualities, you can't underestimate their place in people who have changed the world."
• Can we harness the power of the male influencer to gain respect for female athletes and increase the number of fans of women's sports? Many professional male athletes are super-fans of the WNBA, women's soccer and more. Can we capitalize on their fandom and their influence to get the average guy to tune in?
• Sometimes the espnW summit feels a bit like preaching to the choir. Everyone there is on board and ready to push for an increased focus on women's sports and female athletes. How do we get the word out to the people who aren't on board, the people who really need to hear it? How do we get men who don't believe women athletes give as much, work as hard or deserve as much to hear the stories of the powerful and inspiring women we did?
For more on the espnW Summit, click here.
Source: espnw.com
Posted on: October 4, 2012