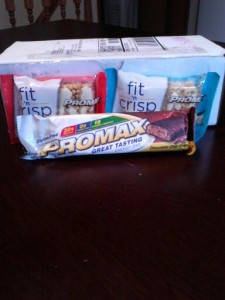 Sports Bras and Sippy Cups features Promax
Promax Review
I got a shipment of Promax goodies in the mail yesterday to review. I got two per flavor, which made it easy to share. 
They came shortly after dinner, so I figured Zoe and I could share one of the Fit 'N Crisp snacks for dessert. It was the Vanilla Marshmallow. Zoe loved it! It was much like a rice crispy treat! At 10 grams of sugar, it wasn't a horrible treat. Zoe gave it a thumbs up!
I agree, the Fit 'N Crisps were super tasty. After reading the label on the Protein bar, I saved it for post workout this morning. It has 29 grams of sugar, which is more than I like, but that is fine for post workout, because sugar helps lean protein get to your muscles quicker. 
  They aren't the cleanest either, which is pretty important to me.  I did like the flavor! I had Chocolate Chip cookie dough.
Texture wise, it was much like a candy bar, so obviously easy to eat lol. I gave Zoe a small chunk and she really like them too!
Even though they aren't 100% clean, I did really appreciate the no artificial sweeteners or colors!!!! You can check out more about them atPromaxnutrition.com You can purchase them at just about any grocery store, GNC,  even some gyms!
For more information on Promax, please click here.
Source: Sportsbrasandsippycups.com
Posted on: October 11, 2012