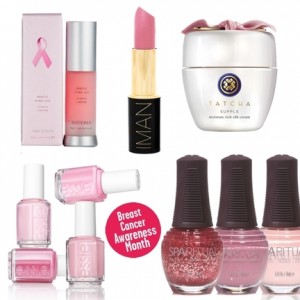 Pink Power with Foam Magazine
Many of our favorite beauty brands are supporting Breast Cancer Awareness and Prevention month this October.
I love the idea that organizations like Boarding for Breast Cancer and Keep A Breast keep breast cancer front of mind all year round, but since it's October, it's really time to ramp up our awareness and do-gooder-iness. Pink is fun all the time, but this month it's the perfect way to make an especially strong supportive statement.
Fortunately, there are tons of beauty brands supporting the cause by releasing pink products that benefit a variety of charities, meaning that whether you're moisturizing your face, painting your toes or lacquering your lips this month, you'll be doing good. You don't even have to purchase anything to help out the National Breast Cancer Foundation-just post on Keranique's Facebook page and they'll donate $1 to the organization.
During the month of October, 25 percent of the sales of one of my all-time favorite brands Arcona's amazing moisturizing Magic Pink Ice ($38) benefits Cancer & Careers. Additionally, $25 from the $150 price tag on Tatcha's luxurious Moisture Rich Silk Cream-which this month comes complete with a pink ribbon made from Japanese kimono silk-will be donated to breastcancer.org. And for a more intense skincare experience, try EmerginC Scientific Organics' At-Home Facial Peel and Clarifying Kit-20 percent of proceeds benefits the Organic Farming Research Foundation, which works to eliminate pesticides that cause cancers.
On the fun, colorful side of things, Iman Cosmetics is donating 20 percent of sales of the Pink Luxury Lip Stain ($10) this month to the Intercultural Cancer Council, and Bobbi Brown is donating $10 to The Breast Cancer Research Foundation for each bronzer/blush Pink Peony Set sold. Plus, both SpaRitual and Essie have fab-what else-pink polish collections. Essie's Raise Awareness collection is a collab with Living Beyond Breast Cancer and features four shades ($8) with inspiring monikers (We're in it Together, Good Morning Hope), while SpaRitual's In Pink line of three rosy hues ($10) supports Fran Drescher's Cancer Schmancer with 20 percent of sales.
So slather yourself in pink head to toe and join the fight!
For more information on SpaRitual, please click here.
Source: FoamMagazine.com
Posted on: October 22, 2012