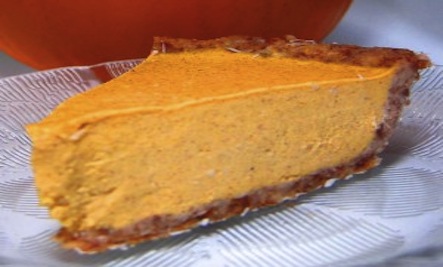 Creative Pumpkin Recipes for the Holidays
Recipe courtesy of Veronica Bosgraaf, Founder of Pure Organic Bars. "We don't all have to be vegetarians," says Ms. Bosgraaf, "but if everyone decreased their meat consumption by just 10 percent, we would free up enough grain to feed every starving person in the world. And doing your part can be fantastically delicious!"
Raw Pumpkin Pie
It's easy and super yummy, and best of all it is guilt free!
Ingredients for Crust
2 cups almonds
1 cup dates, soaked 1 hour to soften
1/4 tsp vanilla
1/4 tsp cinnamon
splash of water if needed
Directions for Crust
Place almonds in food processor and process until mealy. Slowly add in dates, water, vanilla, and cinnamon to form a dough consistency. Pat into a glass pie plate so that crust is at least 1/4 inch thick.
Ingredients for Filling
2 cups raw pumpkin peeled
1 – 1-1/2 cups dates
1/4 cup raisins
1/2 cup cashews
1/2 – 1 tsp cinnamon
1 – 2 tsp vanilla
1/4 tsp cloves
1/4 tsp nutmeg
1/4 tsp cardamom
dash of sea salt
Directions for Filling
Put peeled and chopped pumpkin in food processor. Add dates, raisins, and nuts and then the remaining ingredients. Use a bit of water or orange juice if needed to moisten.
Scoop mixture into the crust and chill 2 hours before serving
Posted on: October 23, 2012