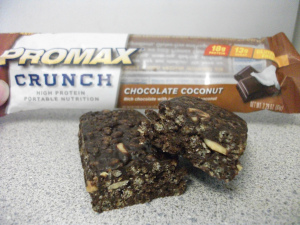 Healthy Stuff Reviews Gives Promax Crunch Five Stars
Promax was so generous and gracious in sending me a box of samples for ALL 3 of their Lines of Bars! They sent me 2 of their Promax Crunch bars, 2 Promax LS (Low-Sugar) bars, and 2 of their BRAND-NEW LINE of bars called their Promax Fit n' Crisp bars.
The alarm clock is out starter's pistol. The new day, our stadium. We have no time-outs and we don't want any. We are the athletes of the everyday. We are the first to take flight. We are the first to set sail.We go for the sake of going. We do for the sake of doing. We eat on the go, drink on the go, sleep on the go. Which is why we pack Promax Crunch bars with 18g of protein, 13g of sugar and simple ingredients. So we can keep movin' it & groovin' it in whatever way, shape, or form we like to move & groove in. We run on opportunity.24 hours buzzer to buzzer. Our pass routes get the deals done. Our volleys raise the kids. Our pressure putts knock the checks into the boxes. Since 1996 Promax is the fuel for doing. We are Promax. We are a passion for happy, fit, well nourished individuals. We care about what goes into people's mouth & bodies. We are 18g protein, 13g of sugar and simple ingredients. We are protein for the people. Everyday since 1996.
Promax Nutrition™ has been making best-selling Promax® high protein energy bars since 1996 and has built its reputation by offering the highest quality, great tasting protein bars. After more than a decade in business, more and more people recognize and trust the Promax® name for good nutrition. Today, with a wide range of products, Promax® is more committed than ever to developing innovative, convenient, and portable nutrition products for active people striving to achieve a healthy and fit lifestyle.
Also, Promax has a cool page called "Meet the Do-ers" which is a series of people who Blog (like me!) and are big Promax fans. You can read their reviews about the Promax bars, as well as their bios, what types of exercise they do, and more info. Here's what Promax says is what Meet the Do-ers" is about:
"Meet the workers, the earners, the bikers, hikers, golfers, climbers, joggers, mom-ers, dad-ers, cookers, cleaners, DIY-ers … the DOers, the everyday warriors for whom life is a verb. Each new day a new opportunity, a blank canvas on which to tinker, to try, to learn, to live, to do. For us life is go, Promax protein our fuel."
Today I am posting this Review for the Chocolate Coconut Bar Promax Crunch flavored bar.
My Review – 5.0 out of 5 – These bars are wonderful! The "Crunch" on the wrapper for this "line/series" for these Promax bars truly lives up to it's name. As well, through the clear "window" in the packaging, just from the eye, one can easily see that this bar looks just like it was made out of Kellogg's Rice Cocoa Krispies Cereal. It was kind of interesting…in the title of this bar mentions "chocolate" and "coconut" but never any nuts. However, this bar also contains peanuts and almond slivers! What a nice surprise! And…Promax certainly do not skimp on the number of peanuts and almonds which just adds nicely to the "Crunch" factor. Another thing I noticed is that as soon as I unwrapped this bar from its packaging, I had a strong, tempting whiff of both nuts and chocolate. I was quite anxious to taste it.
As for the coconut, Promax included Organic Coconut Cream and the coconut itself was sliced/flaked so small, you couldn't not see them in the bar nor taste them as actual "flakes." I am glad about that, because honestly, I do not like the texture of coconut flakes because it reminds me too much of gritty orange juice pulp. In any event, the coconut infused within this bar was great. It adds a delicious tropical coconut flavor that just blends so well with the chocolate.
This bar also reminded me a lot of one of my favorite Girl Scout cookies….the "Samoa" (minus the caramel, of course) which is made with caramel and toasted coconut-covered cookies, with stripes of chocolate.
The chocolate-iness was sweet but not overpowering, but you could definitely tell it was there as it felt like it was carrying extra weight. The peanuts also added a nice taste to the bar.
Overall, this Promax Crunch bars is a great bar! With 18 grams of awesome Protein, only 13 g of sugar and simple ingredients, it's gluten-free and vegetarian, this is great for everyone! Athletes can easily just throw Promax Crunch bars into a workout bag to have handy to recharge after a sweaty workout. Or, they're great to throw into your purse or carry a few in your car to have handy for those Moms or Dads to grab when chaffering their kids to and from school or soccer practice.
Plus, they are great for the average-everyday 30-something active gal like me who likes easy, packaged healthy but good tasting snacks like this to help me keep fueled throughout the day. In other words, these Promax bars are great for Moms, Dads, teens, body-builders, teachers, students, doctors…anyone wanting to fuel themselves with good tasting healthy stuff!
Here is a recipe I found for "Coconut and Chocolate Rice Crispy Treats" that I baked a few years ago, that reminds me of these Promax Bars here.
*STAY TUNED! – Within the next 1-2 weeks, I will be posting a review for the Promax Crunch Peanut Cherry bar!
For more information on Promax, please click here.
Source: Healthy Stuff Reviews
Posted on: October 30, 2012