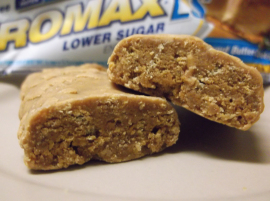 Daily Buzz Food features Promax LS
My Review – 5.0 out of 5 – When I took this out of the packaging and prepared it to bite into for my "presentation" photos for this blog, I was struck by how easily this broken in half and how soft and "doughy" that it appeared to feel in my hands! Raw "cookie dough" obviously has a "doughy" texture, so I was pretty pumped and fired-up to take my first bite. Also, my mouth was watering a bit. I tend to really like "cookie dough" flavored foods.
This bar consists of a "mix" of a smooth cookie dough interior with rice-crisps and chocolate chips for a crunchiness goodness. There is a e thin layer of peanut butter "blanketing" around the cookie dough which gives this bar a more "peanut butter cookie" taste, which is very nice. Then, the entire bar is then wrapped in a thin and smooth layer of milk chocolate. To both the eyes, and the stomach, this is a delicious bar!
While eating this bar, the texture was extremely soft in my mouth and all the flavors complemented each other well, and none were "too much." Very well nced. There was no protein bar "gummy" taste that happens in these bars and the texture was soft throughout. However, there was the occasional crunch added by the rice crisps inside. The cookie dough itself had a nice yet faint and classy vanilla taste and it was sweet, but not "too" much so. This bar tasted a lot like those amazing Hershey's tubes of pre-prepared cookie-dough that you can buy at your local grocery store. I think the chocolate top layer and the blanket of peanut butter both added a really t mild sweetness and the vanilla of the cookie dough just makes this an awesome bar.
Honestly, so far…out of the previous/other cookie dough flavored protein, nutrition, energy, granola, snack bars I've eaten before THIS IS THE BEST ONE! No joke! Truly, I would and quite possibly will buy this bar at my local grocery store (or packs of it online ) . Yep! It's that good! Without question, this bar was unbelievably outstanding and I would recommend it to anyone looking for a candy bar that is "healthy" and not "junk" like a candy bar. At 240 calories (which is within the typical range for protein bars), only 7 g of fat (which is mid-range for most bars) and with 18 G OF PROTEIN, this is truly a good bar. I have to give Promax "Kudos" and "Credit" for their excellent effort at making so many types of nutrition bars !
* * * * * * * *
Seriously…after this VERY POSITIVE EXPERIENCE with this Promax LS bar, I really want to try the other 3 Promax LS Bars soon! I will have to buy them though…as Promax just sent the PB Cookie Dough to me, but that is okay. These bars ROCK…they are definitely worth buying!
For more information on Promax, please click here.
Source: Daily Buzz Food
Posted on: November 6, 2012