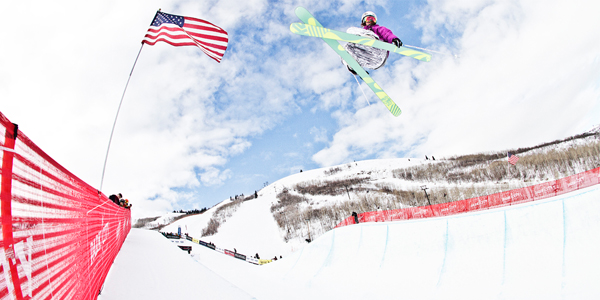 Brita Sigourney Places First For Women's Superpipe Freeski Semi-Final
The Dew Tour iON Mountain Championships at Breckenridge, Colorado kicked off with Women's Freeski Superpipe Semi-Final, in order to set the stage for a week full of great competition.
The semi-final consisted of twelve skiers each taking two runs with the best score counting in order to place and move on to the finals this Friday which will only include the top six athletes.
Following a few spills, minor wind delays and big tricks it was Brita Sigourney that qualified first for finals with the top score from semis. Sigourney's run consisted of an alley-oop 180, left 900, alley-oop 540, left 540, right 540 and a left 720.
Brita Sigourney
"It feels so great to win today. I went way past my expectations. This is my first comp coming back off a knee injury and I am just so pumped to be here again. The new one-stop format adds a lot more pressure but it is really fun."
Rounding off the top three from semis was Maddie Bowman qualifying second and Roz Groenewould qualifying third.
Be sure to check back shortly for a photo gallery posted to the top of this article.
Results
1st Place – Brita Sigourney 89.50
2nd Place – Maddie Bowman 83.25
3rd Place – Roz Groenewoud 82.50
4th Place – Keltie Hansen 79.25
5th Place – Ayana Onozuka 77.50
6th Place – Anais Caradeux 74.00
7th Place – Angeli VanLaanen 71.25
8th Place – Megan Gunning 68.25
9th Place – Manami Mitsuboshi 65.75
10th Place – Mirjam Jaeger 64.25
11th Place – Katrien Aerts 62.00
12th Place – Annalisa Drew 57.00
For more on this story, please click here.
Source: allisports.com
Posted on: December 12, 2012