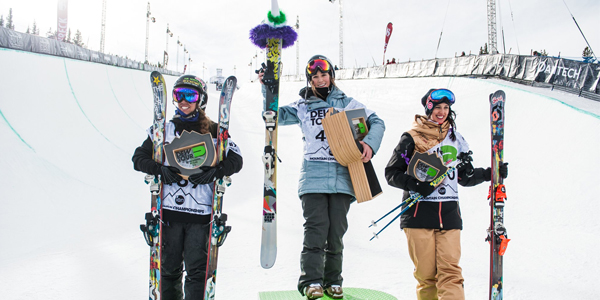 Brita Sigourney Takes Top Honors in Women's Freeski Superpipe Respectively
Breckenridge, Colo. – December 14, 2012 – Competition heated up today, as the action continued at the Dew Tour iON Mountain Championships with the men's Freeski Superpipe Final. Ten top competitors attempted to throw together their mosttechnical runs in a best of two format. Justin Dorey took top honors with a right double 1260 safety, left 900 tail, air-to-fakie, switch 720 Japan, alley-oop left flat 540 critical, left double 1260 Japan.
"I could not be in a better place in the world. I feel like a million bucks. The fact that there is only one stop at Dew Tour this year definitely puts a lot more pressure on us. It's like X Games now. It is the same significance, maybe even more significant since there is only one Dew Tour and two X Games' now."
Earlier in the day, the crowds gathered to catch a glimpse of women's Freeski Superpipe Finals. There was no holding back as the six finalists took to the skies for a shot at the Dew Cup. Brita Sigourney emerged victorious after her first run, with massive amplitude and big spins. Her run consisted an alley-oop 180, left side 900, alley-oop 540, left 540,right 540 and a left 720.
"Winning this feels unreal," said Sigourney, "especially coming off of a knee injury. The one-stop Dew Tour format added the pressure. I just didn't expect any of this and am so happy."
The afternoon's action continued on the slopestyle course with the women's Snowboard Slopestyle Final. The top female riders in the world battled it out to the final seconds of this afternoon's competition, when Jamie Anderson landed a clean last run to take the Dew Cup. She began her run with a half cab tailpress on the tier drop box, followed by a gap to tailslide to fakie on the kinked rail, a cab 540, frontside 700, a backside tailslide to fakie on the rainbow, and a switch backside 540. She ended the run with a huge backside 540, managing a clean landing to place ahead of Spencer O'Brien, who finished in second place. Enni Rukajarvi rounded out the podium in third.
"I'm so thankful to be in this event," said Anderson, following her win. "The course was great. The contest was really fun, and I'm just so happy to be here."
As the sun set yesterday evening, a massive crowd formed for the Dew Tour's inaugural Freeski Big Air contest. Twelve of the top jumpers were divided into two heats of six, each for eight-minute jam sessions. The top three athletes from each heat were given a chance to prove themselves in the final round, for a best of three format. Kai Mahler was the undisputed champion of the night with a score of 97.00. His winning jump was a switch double misty double japan grab.
"It was the first time I ever did that trick," said Mahler. "It was a crazy final. It was a super cool jump, one of the best I have ever jumped in my life."
The Dew Tour iON Mountain Championships continue tomorrow with both men's and women's Snowboard Superpipe Finals and the debut of Snowboard Big Air.
Dew Tour iON Mountain Championships
Breckenridge, Colo.
December 13-16, 2012
Women's Ski Superpipe Final Results
1.Brita Sigourney, Carmel, Calif., 90.25. 2. Maddie Bowman, South Lake Tahoe, Calif., 87.25. 3. Roz Groenewoud, Canada, 84.00. 4. Ayana Onozuka, Japan, 78.00. 5. Anais Caradeux, France, 74.50. 6. Keltie Hansen, Canada, 62.00.
Source: allisports.com
Posted on: December 14, 2012