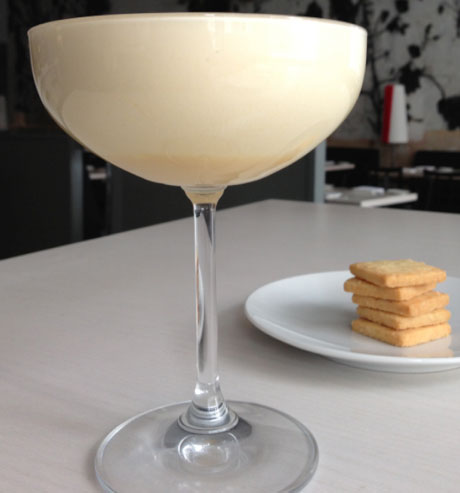 The Daily Details: Freaky Eggnog
For all the fuss we make about eggnog each winter, it's not a terribly complicated recipe: combine eggs, milk or cream, sugar, booze, and nutmeg. Nothing so daunting that it requires you buy one of Turkey Hill's readymade cartons. In fact it's so simple it's practically begging to be messed with.
Most mixologists, however, don't stray too far from the standard formula. They may use spiced rum instead of regular, double up on the liquor, or add vanilla and/or cinnamon. But some bartenders like to get freaky with the 'nog and that's okay with us. Here are a few strange eggnogs from around the nation that we recommend.
Year-Aged Nog
From Hale Pele, Portland, Oregon
Egg yolks, sugar, milk, cream, bourbon, cognac, rum. Aged for one year.
The DIY foodies—perhaps some of the people raising chickens in the backyard—have taken to aging eggnog as of late. Some do it for a week or two but others have aged eggnog for up to two years. Portland's tiki bar Hale Pele is just one bar serving the vintage 'nog to clientele. Their year-aged eggnog sold out in a mere ten days, so they've already put down a five-gallon batch for 2013. Can we get on that wait list?
Brunch Nog
From The Hideout at Dalva, San Francisco
Ingredients: Bourbon, Campari, cream, allspice liqueur, maple syrup, egg, coffee bitters.
The addition of bitter-but-cinnamony Campari is just one interesting choice in this eggnog variation. Add maple syrup and coffee bitters into the mix and this is basically Breakfast Nog. It's a shame the bar doesn't open until 7PM.
Smokey Nog
From Storefront Company, Chicago
Ingredients: Laphroaig scotch, Carpano Antica vermouth, Benedictine, organic egg, cream and allspice liqueur (pictured above).
Were it not for the egg and cream this would probably make one hell of a winter Manhattan—smoky scotch whisky and sweet vermouth accented with winter-spice liqueurs. Dump that Manhattan into an eggnog batter and it sounds like holiday heaven.
Umami Eggnog
From Matthew Biancaniello in Los Angeles.
Ingredients: Candy cap mushroom-infused bourbon, chanterelle-infused cream, agave syrup, egg, nutmeg.
The former chief wizard of the Library Bar in the Roosevelt Hotel in LA, Matthew Biancaniello has gone freelance so you'll have to sample his drinks wherever he bartends during the holidays. If he's too hard to track down, you can try the recipe for his double-mushroom masterpiece (ingredients above).
San Francisco Nog
From Deep Ellum, Boston
Ingredients: Fernet-Branca, cream, simple syrup, egg yolk, demerara sugar, nutmeg.
Fernet-Branca is a minty, bitter, freakish Italian liqueur that has a cult-like following in the San Francisco Bay area (thus the name given to the drink in a Boston bar). There are only a few cocktails that this medicinal hooch won't completely overpower, and apparently eggnog is one of them.
Triple-Threat Nog
From Elements, Princeton, NJ
Ingredients: Jameson Irish Whiskey, Fussigny Cognac, Scarlet Ibis Rum, cinnamon syrup, walnut liqueur, milk, eggs, nutmeg, cinnamon sticks.
While most people choose rum or bourbon or brandy as the base spirit in their eggnog, mixologist Jamie Dodge of Elements throws all three in the mix. Because if you're going to ingest your most fattening thing of the year in drink form, you may as well get bombed doing it.
Source: Details.com
Posted on: December 21, 2012