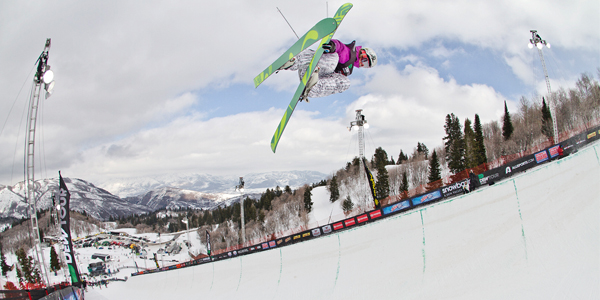 Brita is back
Brita Sigourney has recovered from a knee injury and is back on top of the podium
Two-time Winter X Games medalist Brita Sigourney has recovered from the torn ACL knee injury that sidelined her at Winter X Games Tignes last March. And just to prove the injury isn't slowing her down, earlier this month, she stood atop the podium of the women's halfpipe competition during the Dew Tour's Ion Mountain Championships, where she claimed her second consecutive Dew Cup championship title. We spoke to Sigourney after her win in Breckenridge, Colo.
I was going to ask you how your knee is holding up and how this season is looking for you, but you've just made quite a statement.
I feel so great. There's nothing better than winning your first competition of the year. It relieves so much pressure, it tells your sponsors you're ready to go, and it just builds your self-confidence going into the rest of the season. I can't wait for what's coming up.
What did it take for you to get to this point, after the injury?
I was in the gym all summer, all fall, and all last spring, building my knee back to full strength. My goal was to get back to 100 percent, but honestly I'd probably say my overall strength right now is more like 120 percent what it was before the injury.
Does having the freeskiing debut at the 2014 Winter Olympics looming on the horizon change the way you're approaching this season?
I try not to really think about it like that because I don't really ski well under pressure and I can't even wrap my brain around the Olympics just yet. Right now I'm just focusing on getting back to where I left off before I hurt myself, and it's been working out so well. So far so good.
Now that you're back in action and have had a chance to see what everyone's working on, what do you make of the current state of women's pipe competition?
The girls are definitely throwing down. We're seeing back-to-back 9s, back-to-back flairs, cork 9s, girls just going really big. The judges are really looking for amplitude and grabs right now, and really clean runs, so that's what I'm going to focus on: definitely working with the technicality but also staying with the basics of amplitude and style, you know, going big and trying to make it look good.
What are you most looking forward to now that everything's getting underway?
I headed back home, to Carmel, Calif., for the holidays. After this, I'm looking forward to both of the Grand Prix events and Winter X Games, of course, and then after that we go to Europe for a few months. We have comps in Russia, Norway, and France this year so it should be quite an adventure. I'm just so stoked to be riding with my friends again and I can't wait for everyone else to be healthy too.
For more on this story, please click here.
Source: espn.com
Posted on: January 2, 2013