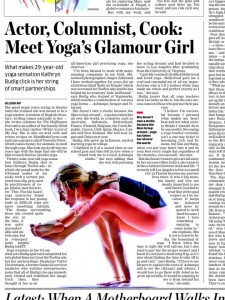 Actor, columnist, cook: Meet Yoga's glamour girl Kathryn Budig
She spent many years acting in theatre until she realised she was meant to be a yoga teacher. A student of English literature, writing comes naturally to her – she writes columns for The Huffington Post and is an author of the funnily titled book, I'm a Yogi/Author/Writer/Lover of My Dog.
She is also an avid cook and writes recipes onMindBodyGreen.com and runs a project called 'Poses for Paws', which raises money for animals in need through yoga. She took up skydiving two years ago with the hope that she will be able to teach that too, besides yoga.
Twenty-nine-year-old yoga sensation Kathryn Budig shot to fame through ToeSox ads-in which she posed nude for the US-based maker of toe socks with a certain patented non-slip grip used by practitioners of yoga, pilates, martial arts, etc. This Florida-based yoga instructor found the response to her posing nude in difficult yoga postures unsettling initially. "The drama surrounding those ads created quite the stir. At the time, it was quite uncomfortable and unwelcome, but in retrospect quite helpful," Budig told ET.
Yoga watchers in the US say what sets Budig apart and catapulted her into global fame isn't just the ToeSox ads, but her partnerships. Stephanie Taylor Christensen, a former financial services marketer who watches entrepreneurs, notes that all of Budig's tie-ups immediately clicked and redefined her image. Until then, they thought of her as an all-American girl practising yoga, she observes.
"I've been blessed to work with many amazing companies in my field. (Renowned photographer) Jasper Johal and I have worked together for years (for an exhibition titled 'Body As Temple' which was recreated for ToeSox ads) and he has helped me to create my 'look' and brand," says Budig who trained at Yogaworks, which teaches a combination of various yoga forms – Ashtanga, Iyengar and Viniyoga.
She doesn't own a studio because she likes to hop around- yoga has taken her all over the world, to countries such as Australia, Indonesia, Switzerland, France, Finland, Belgium, the Czech Republic, Greece, UAE, Qatar, Mexico, Canada and New Zealand. She will tour Japan and China next year.
Budig, who grew up in Kansas, started learning yoga in college.
"I dabbled in it at a casual class at our school gym and then fell in love when a friend took me to a local Ashtanga studio," she says adding that she was still pursuing her acting dreams and had decided to move to Los Angeles after graduating from the University of Virginia.
"I quickly realised I disliked Hollywood and loved yoga-Hollywood gave me a void and reminded me of all my imperfections (she is 5 ft 2 inches) while yoga made me whole and perfect exactly as I was," she says.
Budig knows that all yoga teachers aren't as lucky as she is, but she says success comes to those who pursue their passion.
"I believe I'm successful because I pursued what makes my heart beat and not what society thinks I 'should' do to be successful. Becoming a yoga teacher certainly isn't a one-way ticket to becoming rich and famous, but like anything, when you put your heart into it and do your best every single day regardless of the obstacles, you succeed," she says.
But she doesn't want to get carried away by her success either. In fact, she wants to strike a balance between work and life. "I recently left Los Angeles to live in a small city in Florida because my partner lives there. It was a big move, but family and love are deeply important to me and I knew I needed to treat that with equal respect as I do my career. It keeps me balanced and more inspired to work hard because I know I have something amazing to come home to," she explains. She is yet to travel to India, the homeland of yoga.
"I know when the time is right she will call me, but I also want to pay her the proper respect and I know it's not just a week-long trip, so it's also about finding the time to take off to go and visit," says Budig. "I'd love to see Mysore to explore the roots of Ashtanga and to see the vibrancy and colours. I would love to go there with Johal as he grew up in India. It would be amazing to see it from behind his lens," she adds.
For more on this story, please click here.
Source:
Posted on: January 8, 2013