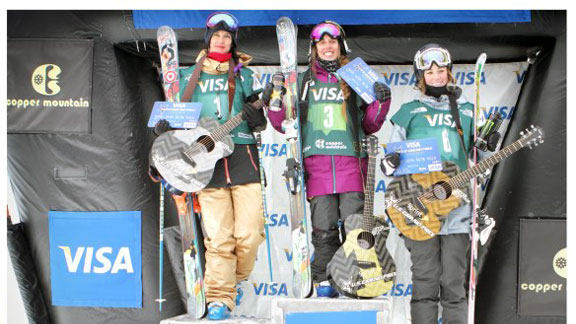 Brita Sigourney takes 3rd at Sprint Grand Prix in Copper
FIS World Cup halfpipe competitors in the 2013 Visa U.S. Grand Prix Freeskiing finals at Copper Mountain got a classic Colorado welcome on Friday, waking up to a whiteout and several inches of new snow, but then finding bluebird conditions once the event was underway.
In the women's ski halfpipe finals, American Maddie Bowman took first, followed by Canadian Roz Groenewoud and American Brita Sigourney in second and third, respectively.
"The pipe was pretty slow this morning and I didn't land one practice run, so to come out and win with my last run was pretty exciting," Bowman said after winning. "It was tough, but I don't have it in me to complain about new snow and I just love skiing with these girls. I'm super happy, because I really wanted this one."
Bowman, like all of the women competing in finals this week, was sporting a "Sarah" sticker in memory of women's freeskiing pioneer Sarah Burke, whose death one year ago rattled the action sports community. The new Sarah Burke Foundation, formally announced earlier this week, has been promoting #celebratesarah this week as both a social media meme and a rallying cry for the athletes she inspired.
"Sarah's definitely always on our minds, and she came out and brought the sun out for us today," Bowman said. "We're shredding with her in our hearts this year and we all just really miss her, but we're celebrating her life the best way we know how and the way she would have wanted."
Bowman's winning run featured a right 900 into a left 540 mute grab, a lofty straight air with a safety grab, a left 900 to right 720, and a switch 540.
In the men's ski halfpipe finals, Canadian Mike Riddle took first, followed by Aaron Blunck and David Wise.
Stay tuned for more coverage on the ground in Copper. Men and women's ski slopestyle finals take place Saturday.
Men's Ski Halfpipe Results
1. Mike Riddle
2. Aaron Blunck
3. David Wise
Women's Ski Halfpipe Results
1. Maddie Bowman
2. Roz Groenewoud
3. Brita Sigourney
For more on this story, please click here.
Source: espn.com
Posted on: January 11, 2013