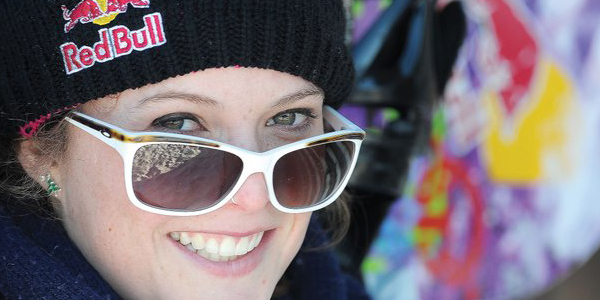 My Perfect Adventure: Maddy Schaffrick
The youngest snowboarder at two Winter X Games tells us about her fantasy to surf with Taylor Lautner, why she wants to visit an Amish town, and what always brings her back to snowboarding, even after an injury
She's young, but Maddy Schaffrick is no rookie. Before even taking her high school diploma in June, the 18-year-old from Colorado was the youngest snowboarder at two Winter X Games, first in 2009 and again in 2010. That same year, when she was just 16 years old and two seasons into her professional career, she almost made the U.S. Olympic squad, missing the team by three spots. (Not to worry; the 2014 Games are coming up soon, and she's got plenty of energy for another go.)
Off to an early start, Schaffrick had to take a break early last year due to a major knee injury, but after surgery and 11 months of physical therapy she came back strong with a second-place finish at the Grand Prix season opener last December. She injured herself again shortly after that and had to go through another surgery plus more rehab. Her first competition since then was at the Dew Tour in mid-December, where she finished in third.
Here, she tells us about her fantasy to surf with Taylor Lautner, why she wants to visit an Amish town, and what always brings her back to snowboarding, even after an injury.
Describe your perfect day, from dawn 'til dusk. Where would you be, who would you meet, and what would you do?
I wake up in a small hut on the beach with Taylor Lautner next to me, surf all morning with him and Salma Hayek, and then take Salma golfing. On the course, we run into Quentin Tarantino and he takes me out to dinner to discuss his new screenplay ideas. Then we have a bonfire on the beach that lasts all night. All my friends, new and old, are there, and everyone is really rowdy.
If you could travel somewhere you've never been, where would you go and why?
I would want to go to a place full of Amish people to feel like I was time traveling. I know I would have an urge to drive my car 80mph through their town, but I probably wouldn't have the guts. I would end up just churning butter. I would probably go to Pennsylvania since there are so many Amish people there and I could escape to New York City if I needed to get back to civilization.
Where is the best place you've ever visited? What made it so special?
My favorite place to go is my grandparent's cottage in Misquamicut, Rhode Island. My entire family, all 14 of us, squeeze into this small, one-bathroom cottage and go to the beach every day together. My cousins and I take sea kayaks into the ocean and flip them over. We sit on the bottoms of them and watch fish, jellyfish, and crabs pass below us. My grandma plays Scrabble with my aunts and uncles in the sand. And sometimes we'll throw the frisbee for hours. Every Sunday, my uncle Glenn makes pancakes and my grandma makes the best bacon in the world. It's my favorite place to go because I'm with my family and it's an escape from everything in my usual life.
If you could have lunch with any adventurer, explorer, or athlete, who would it be and why?
Felix Baumgartner, to hear the details of his experience and see what actual insanity looks like. He's the man who skydived from outer space. I want to know what it took for him to want to attempt that.
What's something you can't travel without? And why do you need it?
I always need a ballpoint pen, in case a brilliant story idea or rhyme comes to mind. I always need headphones as well. I can't snowboard without music.
When you arrive at a new destination, what's usually first on your agenda?
I go to the grocery store. I'm usually hungry for a home-cooked meal after traveling. My specialty is chicken salad, which is easy and delicious. We usually have a kitchen in the places we stay. If not, I find my closest friend's house to cook in.
What motivates you as a snowboarder?
The more fun I have while snowboarding, the more I want to progress and try new tricks. It also motivates me when younger girls tell me they want to snowboard like me. I feel as though I'm giving back to the sport, and that makes me so happy.
As a child, what was your dream job? If you gave up that dream, when and why did your plans change, and do you have any regrets?
When I was in the early years of elementary school I wanted to be a truck driver, just because I liked their hats. I gave up on that dream once common sense hit me. I don't regret my decision not to be a driver—I figure my life now is a little more exciting.
When and how did you first start snowboarding?
I discovered snowboarding on TV when I was six years old, watching the Winter X Games. I was skiing at that time, and all of a sudden it seemed lame for me to be doing that. I remember Gretchen Blieler, in particular, catching my eye. She looked like she wasn't there for the competition, just to have fun. My parents made me finish the season on skis because "Schaffricks aren't quitters." But the next season, at age seven, I learned how to snowboard and my life became complete.
What's one piece of advice you would give to an aspiring professional snowboarder?
If snowboarding starts being all about competition, then quit—it's not worth it. Never lose the enjoyment and thrill that snowboarding is all about. It should be your favorite hobby, not your job. And if you happen to get paid while doing your favorite hobby, then you are one of the luckiest people in the world.
Have you ever had any role models or mentors? Describe the most influential and what he or she taught you.
I have so many role models—my mom and dad; my coaches who taught me how to snowboard; my aunt Wendy; my mom's friends; some of my high school teachers; the boys who rode with me while I was growing up and pushed me to try new tricks, and who are now my great friends; and the girls I get to ride with every day.
I'd say Gretchen Bleiler has inspired me the most in my snowboarding and in everyday life. She turned me on to snowboarding when I was six. I grew up watching her on TV and finally met her when I was 13. I was crying from shock and she still treated me with such kindness and empathy. When I was 16, I was going through a rough time recovering from an injury and trying to fit back into my high school crowd. Gretchen talked me through my fears and reassured me things would get better. Even to this day, she inspires me to pursue happiness in everything I do, and that has been one of the greatest lessons I have learned.
Do you have a life philosophy?
There is a balance in everything. No matter how bad things get, there will be a good time that is just as powerful.
Have you ever made a mistake or experienced a near accident that made you think twice about competing again?
Injuries unfortunately come with extreme sports. All of us athletes have experienced at least one major injury. It can be scary to realize what we're doing can be so dangerous, but my love for it always brings me back. I don't think I'll ever give up on snowboarding as long as I am physically able.
If you had to choose a different career, what would it be and why?
I would love to be a fiction writer. Reasons: flexible hours, ability to travel, opportunity to use my imagination every day, and a chance to provide a story for millions of people, because if they are anything like me, they love stories.
Name three things you still want to cross off your life bucket list.
Go to every continent.
Sail across an ocean.
And look a wild lion in the eyes.
For more on this story, please click here.
Source: outside.com
Posted on: January 16, 2013