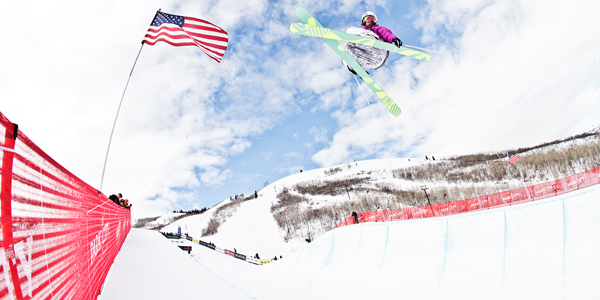 MY PERFECT ADVENTURE: BRITA SIGOURNEY
One of the world's top female freeskiers tells us about her urge to visit Indonesia, the time she saw blue-footed boobies in the Galapagos Islands, and why she sometimes imagines life as a professional surfer
When it comes to picking an ideal landscape, some of us are beach people and some of us are mountain people. And then there are those like Brita Sigourney, who ask themselves the question: Why should we have to choose at all?
Sigourney may be one of the world's top freeskiers, but she also feels alive in the ocean. The 22-year-old California native grew up on the coast and took to the water right away, joining swimming, diving and water polo teams during her school years, while also playing a bit of soccer and basketball (again, why choose just one sport?). Despite living about five hours away from the mountains of Lake Tahoe, her parents took her there and showed her how to ski as well. She started learning when she was just a toddler, and by the time she was 14 she was competing in all five freestyle disciplines.
Eventually, Sigourney decided to focus on skiing, leaving college at the University of California, Davis, to train in Park City, Utah. In addition to taking medals at her last two X Games, she made skiing history this year by becoming the first woman to land a 1080 trick in a full superpipe run. She can claim titles from the 2010 Junior World Championships, the 2011 Dew Tour and Copper Mountain Grand Prix, and the 2012 U.S. Grand Prix at Mammoth Mountain in California, but she hasn't forgotten her love of the deep blue.
Here, Sigourney describes her urge to visit Indonesia, the time she saw blue-footed boobies in the Galapagos Islands, and why she sometimes imagines life as a professional surfer.
Describe your perfect day, from dawn 'til dusk. Where would you be, who would you meet, and what would you do?
I would be in a hut in the backcountry somewhere in Alaska, in a location that is only accessible by helicopters or snow CATs. There would be tons of fresh snow, and I would spend the day lapping the best lines with the friends I love skiing with most. Once we had our fill, we would go back to the hut, where there would be a nice fire and we would make a big family dinner with wine.
If you could travel somewhere you've never been, where would you go and why?
Indonesia, because I've only seen beautiful pictures from there and heard great things about the place. Between the lush green hills and turquoise waters, it seems like a must on everyone's travel list. Friends who have visited say the natives are welcoming and friendly, and there is nothing better than traveling somewhere so far away to be greeted with open arms. I love the beach as much as I love the snow, and I would love to experience the ancient traditions and Western-influenced culture that exists there.
Where is the best place you've ever visited? What made it so special?
Probably the Galapagos Islands. When I was younger, my parents took our family on the best vacations. Even though I was young, maybe 13 years old, and probably didn't appreciate it as much as I should have at the time, it was an incredible experience to look back on. I saw some of the most amazing animals, like blue-footed boobies, marine iguanas, flamingos, sea lions sprawled across the same beach we were walking. There were also 100-year-old tortoises, albatross in flight, and penguins that swam right next to us while playing in the ocean. The views were amazing from our boat and even better once we got on the islands. Everything was so lush, and the cliffs that rimmed each island were amazing to stand on. I saw things that I would never have the opportunity to see anywhere else.
If you could have lunch with any adventurer, explorer, or athlete, who would it be and why?
Usain Bolt, because he is the fastest man in the world and he has the confidence every great athlete should. He seems like he knows how to have a good time, even when he's competing at the Olympics.
What's something you can't travel without? And why do you need it?
Even though I'm 22, I bring my stuffed dog, Frank, everywhere I go. It's nice to have something from home when I travel so much. He's a great snuggle buddy, too, and doubles as a pillow on long car and plane rides.
When you arrive at a new destination, what's usually first on your agenda?
I take a shower. Traveling makes me feel dirty, especially if it's been a long day. But once I'm clean I usually like to get a lay of the land and check out our new spot.
What motivates you as a skier?
My friends, my coaches, and myself. I think it's important to ski with people who you trust and always have fun with. Watching my friends ski inspires me to try new things and progress with my own skiing. We all push and encourage each other to do things we might not be confident doing by ourselves.
My coach is one of my biggest motivators. He's always there when I need encouragement the most, reminding me why I ski and what I'm trying to accomplish when I get stuck sometimes in a mental rut.
And finally, I think it's really important to set personal goals and stick to them throughout the year. You need to have the desire to succeed before anyone else can have an influence on your actions.
As a child, what was your dream job? If you gave up that dream, when and why did your plans change, and do you have any regrets?
I always thought being a professional skier would be the best thing ever, but I didn't actually think it was possible until I was older and started competing with my role models like Sarah Burke. Once you are in the mix with all the professionals it's hard not to do everything you can to be like them.
When and how did you first start skiing?
I started skiing when I was two years old. My mom borrowed some friends' miniature boots and skis and strapped me in at the sledding hill at Alpine Meadows, Lake Tahoe, just for fun. Apparently I had great balance and it was on from then. I got my own pair, along with a training leash, and was hitting the ski slopes with my parents, who would take turns steering me down the mountain.
What's one piece of advice you would give to an aspiring professional freestyle skier?
Just keep going after it and keep pushing yourself to progress your own level of skiing. It's important to find inspiration from other skiers, but you have to do it because you love it.
Have you ever had any role models or mentors? Describe the most influential and what he or she taught you.
Sarah Burke has been a major role model throughout my ski career. Growing up, I admired her skiing and her talent but had no idea how amazing she was until I began competing next to her. Not only was she a diehard skier who was pushing the sport for women by throwing down like the boys and getting us into events like X Games, but she had the attitude and personality of a saint. She was welcoming and encouraging to upcoming girls like me, and she made me want to be a skier and a person like her.
Do you have a life philosophy?
Do what you love and love what you do.
Have you ever made a mistake or experienced a near accident that made you think twice about competing again?
When I was 16, I had the worst accident I had ever experienced. I broke my kneecap in three pieces while skiing in the park and ended my season in January. That's when I realized skiing is a dangerous sport, and it's possible to get hurt. But the accident didn't steer me away. It only made me realize how much I loved the sport when I became depressed that I had to watch everyone else enjoy the winter while I wouldn't get any of it. The experience did, however, make me terrified of rails for a solid two years and still a little timid to this day.
If you had to choose a different career, what would it be and why?
I'd be a professional surfer because I hate being cold and I think surfers get to travel to the coolest places. I love being in water—I was raised as a swimmer, and I think the ocean is amazing. I think I would have been more persistent about surfing if the northern California ocean wasn't so cold. Whenever we went to Hawaii (which was every summer until I was 10), my parents let me take surfing lessons with my friends. I think if I had grown up in that paradise full time, surfing would have been an easy activity to pursue. I guess everything happens for a reason, and I can't complain about the life I have now.
Name three things you still want to cross off your life bucket list.
Skydiving.
Winning an Olympic medal.
And traveling to Indonesia.
For more on this story, please click here
SOURCE: Outside.com
Posted on: January 17, 2013