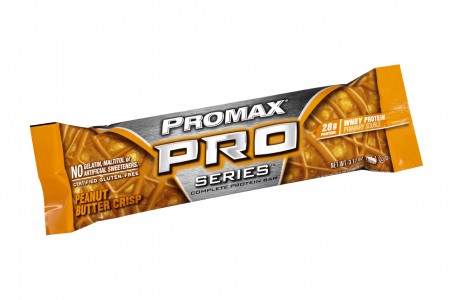 So Fit & So Clean
I was recently sent a Promax Pro Series Peanut Butter Crisp Bar through the Sample Program at Muscle and Fitness. It's a great monthly program to try new products before you commit to buying them. I used to rely very heavily on protein bars, but have given them a break lately. I had never tried this brand, but the name sounded amazing and it happened to fit right in my macros for the day as a post-workout treat.
Taste (10/10): If you like peanut butter, and you like rice crispy treats… this is the ultimate bar for you. It's just the right amount of sweetness for me, and since it's so large, I felt totally satisfied when I finished it. The texture is crispy, chewy, and it almost tastes like a Whatchamacallit which happens to be my favorite candy bar.
Macros (9/10): This bar has a great protein count (28g of protein) and the carbs are kept fairly low in comparison to many protein bars. I love that it has 8g of fiber, which helps me feel full and satisfied. It's a little high in fat, but since I save most of my fat intake for the end of the day, it worked perfectly in my diet even though I am cutting.
Overall (9/10): I would absolutely spend money on these bars. I would even plan my entire day around eating one of these for my post-workout meal or dessert. They are super tasty, high in protein and fiber, HUGE, and satisfying which to me, makes the perfect treat.
For more information on Promax, please click here.
Source: So Fit & So Clean
Posted on: February 1, 2013