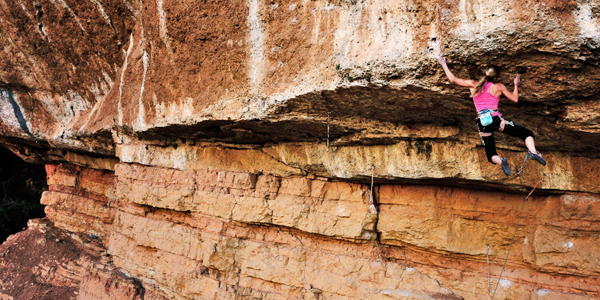 The girl who could climb before she could walk: Teenager crowned the best female climber in the world
Daredevil teenager Sasha DiGiulian likes to hang out, literally, half a kilometre up over a plunging rock face.
The 19-year-old, from Washington DC, burst onto the climbing scene at the age of seven and is now the best female climber in world.
And the teenager admits she learnt how to climb before she could walk.
'I used to climb out out of my cot as a baby,' she said. 'I was a bit of a nuisance to my parents.
'Then I'd play "follow the leader" along monkey bars with other kids, trees, and eventually onto rock walls.'
Miss DiGiulian scooped her first world title as soon as she turned 18 on her first attempt.

She is also the youngest woman to have completed a coveted 5.14d graded climb – the hardest route achieved by any woman ever.
he is also the reigning US National Champion – scooping first place three years in a row.
In fact, she's been topping sport climbing since 2004 after remaining the undefeated Junior Pan American Champion from 2004 until she turned 18.
In her first year as an adult she took gold in the Climbing World Championships 2011 in Arco, Italy.

She is now ranked number one in the world for Female Outdoor Sport Climbing.
Like a lizard she hauls her slender frame up impossible rock faces, using her 'no pain, no gain' mantra to push herself harder.
She said: 'I have good upper body strength and not really any excess weight, which helps,' she said.
'Rock can be very abrasive so I get bloody hands quite frequently, cutting them on the rocks.'
When she's not free climbing or bouldering, Miss DiGiulian studies Creative Writing at Columbia University, in New York.
But she takes on a gruelling training regime throughout the week to keep herself in shape for competitive and outdoor climbing.
'I train five days a week for two-to-three hours and cross train with biking and running.
'I generally eat a well-balanced healthy diet involving protein in every meal as well as a bountiful amount of vegetables and fruit.
'I also have a huge sweet tooth that I'm happy to indulge – as long as I am active.'
Between her climbing and university schedule, busy Sasha is also fighting for her biggest dream.
As an Athlete Representative she is helping the International Federation of Sport Climbing to make climbing an Olympic sport and wants to compete in the games.
For more on this story, please click here.
Source:dailymail.co.uk
Posted on: February 4, 2013