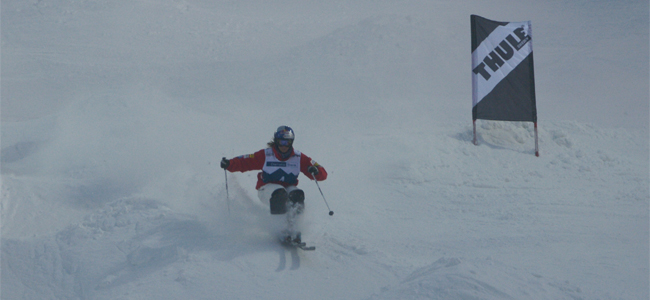 US sweep at World Cup moguls
DEER VALLEY, Utah (AP) – Reigning Olympic champion Hannah Kearney felt a different kind of pressure Thursday night when she stood at the top of the moguls run.
The announcers made it clear American teammates Heather McPhie and Eliza Outtrim were already guaranteed spots on the podium.
"I thought, OK, I'm the only one who can blow it now," Kearney said with a laugh.
She didn't, laying down another perfect run to lead an American sweep at a freestyle World Cup moguls event at Deer Valley Resort in Park City, Utah.
It was only the second sweep by U.S. women, with the other occurring Jan. 21, 2010, in Lake Placid, N.Y.
"That experience is unique, so that's what makes it really special, sweeping the podium as a country on home soil, amazing," Kearney said. "I've known Eliza for 20 years, been on the team with Heather for the last eight, I think, so we've all trained really hard together. So it was really cool."
It also speaks to the depth of the women's team, which was cheered on by several thousand spectators under the lights.
"Our team is super strong, and I think it's fantastic," said McPhie, who took silver Thursday. "We push each other all summer every training camp, and we've talked about this day for a very long time. I couldn't be happier to be on the podium with these two women. It feels amazing."
Kearney won gold in the 2010 women's sweep as well, while McPhie took bronze behind Shannon Bahrke.
Outtrim, least decorated of the three, was happy to be a part of history.
"I've known Hannah since I was 10 years old when I first started skiing," said Outtrim, who like Kearney grew up in Vermont. "We're both East Coast girls. We've all come a really long way. That was a really great moment for us."
Kearney continued to show she's back from an October training accident in which she suffered broken ribs, a punctured lung and lacerated liver.
"I feel really good," said Kearney, before quickly adding, "not the best I've ever felt in my entire life."
She acknowledged competing two weeks after she was able to ski again left her sore more quickly. Then she strained her knee in Calgary last week and is getting over a cold from all the travel.
Nothing like another gold to make all that go away.
"Now I feel fantastic," Kearney said. "I think this is the turning point in the season."
In the men's moguls competition, Mikael Kingsbury led a 1-2 Canadian finish as he edged reigning Olympic champion Alex Bilodeau. American Patrick Deneen took third.
The 20-year-old Kingsbury has been on the podium in 19 straight events, and won his 14th gold Thursday.
"Every race sometimes I think about it, OK, well if it's ending today, I'm happy with what I've done so far," Kingsbury said. "I just take it cool on top. Get relaxed, this is how I do my best.
"If you had told me 20 World Cups (ago), (I was) going to do 19 straight podiums, I wouldn't have believed it. It's just awesome."
The competition continues Friday with aerials, with dual moguls to follow on Saturday
For more on this story, please click here.
Source: usatoday.com
Posted on: February 4, 2013