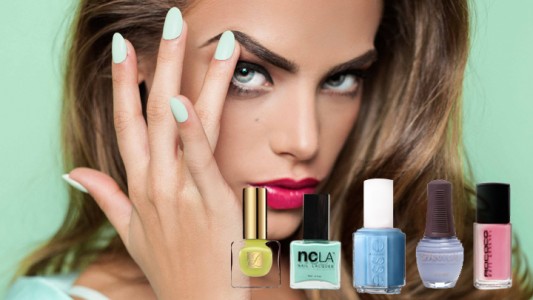 Pale Power
Move over oxblood-spring nails are lightening up big time with new ultra-chic pastel polish collections
It may still be snowing in some places, but spring has proved it won't wait with the debut of an almost overwhelming number of pastel nail polish collections from brands including NCLA, SpaRitual and Estée Lauder. But these aren't all your typical baby pinks and blues-there are muted hues of lime, mint and orange, too. "After long winters, people get so excited to start wearing colors, and their nails are no exception," says NCLA founder Elin Dannerstedt. "They can brighten your whole outfit, and pastels are way too pretty to go out of style."
NCLA's new spring collection, inspired by ice cream, candy and pastries (and featuring shades like the minty AM: Beauty Sleep, PM: Shopping Spree, lilac As If! and creamsicle-y coral Don't Call Me Peachy), was created partly out of demand from the LA brand's customers who love lighter toned, creamy lacquers. Plus, "Pastels work for everyone and every nail shape. You can also mix and match colors on your nails without looking crazy (like with a similarly muted accent nail), and it adds the perfect pop of color in a dark or neutral wardrobe," says Dannerstedt.
For Shel Pink, LA's SpaRitual founder, introducing a spring line of vegan pastels-which includes the buttery yellow Transcend and robin's egg blue Energy-was meant to affect the wearer's state of mind. "What I love about the pastel look is that it is sophisticated and soothing. Colors have a physiological effect on our mind, body and spirit and a language all their own," says Pink. "Each of these colors was created to impart a meditative effect to the wearer and to look beautiful and complementary of the individual's unique style."
Moreover, these macaroon-hued nail confections simply elicit smiles. They're not all saccharine sweet, either. Estée Lauder's chartreuse-y Absinthe from its stunning (and limited-edition) Heavy Petals collection sits right on the edge. And three of the shades in Rococo Nail Apparel's upcoming March collection-the super creamy, white-based peachy Babette, blue Sandrine and barely-there lavender Amelie-are meant to combine a bit of edginess with Parisian women's elegance and effortless style. Essie's also due out with a spring collection in March featuring unique, slightly shimmering pastels.
While Dannerstedt says the pastel family can be worn by anyone, she warns against those with very pale skin wearing ultra faded shades that would wash them out. Orange, peach, purple and pink tones will work on every skin type. But, once you've hit your pale polish stride, don't worry about giving it up once the sun goes down. "Most people wear pastels during spring and summer," says Dannerstedt, "but I find it completely acceptable to wear them all year long. Plus, they're perfect for a more conservative work environment."
Source: Beauty Bender
Posted on: February 14, 2013