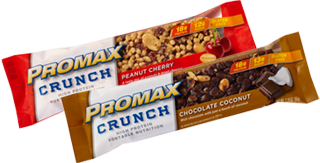 Trail Blazer Girl Reviews Promax Crunch
The great flavors just keep coming. Now, Promax Crunch Bars have introduced Peanut Cherry and Chocolate Crunch in high-protein formats with and amazing 18g of protein. They're gluten free, vegetarian, kosher and contain no artificial sweeteners, no artificial flavors, no high fructose corn syrup, no maltitol and no gelatin. Put simply, Promax delivers instant energy that tastes really good.
For more information on Promax, please click here.
Source: TrailBlazerGirl.com
Posted on: February 14, 2013