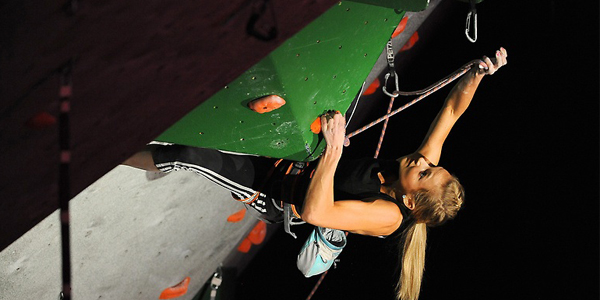 Sasha DiGiulian – Setting the pace for female climbers.
Sasha DiGiulian (20) is synonymous with one word. Balance.
At 20 years old she's probably the best female rock climber in the world, a student at Columbia University in NY, and has a philosophy that will likely set her a cut above the rest for a lifetime.
"Since a young age I have balanced my climbing life with my school life. This balance has taught me valuable time management skills. I have also learned a lot about the successes that hard work yields, and the necessity for determination and passion."
From the age of 7 she's been climbing up walls and rankings, winning an overall gold medal at the World Championships in Arco, Italy in 2011.   In her 13 years she has managed to build her climbing skill to a level that rivals some of the greatest legends of today's rock climbing world. Chris Sharma did his first 9a+ at the age of 20, sending Realization in France.  Sasha has now done two 9a's by the age of 20 – so close to what Sharma was achieving at the same age. For up an coming female climber this is a major achievement.
Only two other women have climbed 9a in the history of climbing, Josune Bereziartu and Charlotte Durif. Sasha was the first American to do so in 2012.
Having a role model like Sasha is important these days. As she repeats some the Worlds most difficult climbs like Era Bella (9a) in Spain and  Pure Imagination (9a) in Kentucky she was picked up by the media and hits headlines – as you may expect being the first American female to climb at this level. Her popularity has began to flood the press and now she is becoming a role model to other aspiring young women. In an interview with Seventeen magazine (for teenage girls) she says  "if I'm studying after a workout, I'm able to focus more intensely because I'm not as fidgety and wanting to get up and move around." This is good advice for anyone to help stay focused – as mind and body require working in  'balance' – a word you often hear in Sasha's philosophies.
Take my word for it, it really works, and especially with Sasha, she even got a perfect score in one of here exams!
Aware of her potential, she  now has sponsorship backing from Adidas, Five Ten, Petzl and Enterprise Climbing Walls. It looks as if there's no time for anything but climbing and filling contract obligations, but it seems Sasha is able to once again – balance it out, attending competitions and jet setting around the world to send hard climbs between studying at University. Sasha is one person who has got it going on! I hope she inspires many more to get out into the wild and find some 'balance' in their lives.
Click here to see the video.
Source: epictv.com
Posted on: February 19, 2013