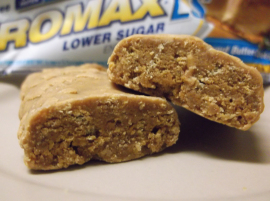 Product Review: Promax LS Bars
I've tried every protein bar under the sun. Okay, well maybe not all of them, but a lot of them. Now I have tried plenty of "sugar free" or "low sugar" bars and one thing you will not hear me say often is, "mmmm mmm that's a tasty, low-sugar bar, lets go get some more of these". However, if you read my review of Promax Pro Series Protein Bars, you know that this company puts out some delicious products with stacked ingredient profiles. Let me tell you, the Promax LS bars are both delicious and healthy.
Before we get into the taste, lets check my favorite positives from the ingredient profile of the Chocolate Fudge Flavor:
PROTEIN 18G: Made from a blend of soy protein isolate, calcium caseinate, whey protein concentrate… what's a protein bar without some high quality protein?
FIBER 14G: Based on a 2,000 calorie diet, this is 56% of your daily recommended fiber intake. Yeaaaaa buddy!
SWEETENED WITH STEVIA: No high fructose corn syrup here mate. No artificial flavors, colors or gluten…just healthy, clean ingredients.
These bars are tasty, plain and simple. I've only tried the Chocolate Fudge and Mocha Latte flavors but they were both exquisite. They were not chalky like a ton of other bars out there. The density was perfect, a chocolate coating on a soft chewy center. With only 220 calories, the Promax LS Bars are a little smaller than the Pro Series Bars, but are great bars for a quick protein fix or snack on the run. With their killer low-calorie, low-sugar ingredient profile, choosing these bars is a no-brainer.
For more on the story, please click here.
Source: JackedPack.com
Posted on: February 21, 2013