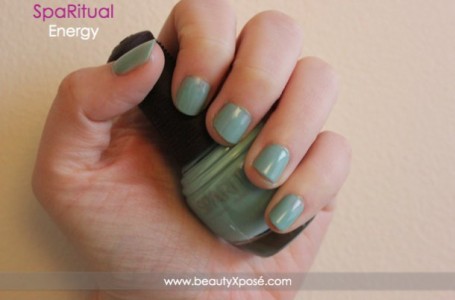 Get your SpaRitual on with Beautyxpose
Nail polish (and cheese – but that's a different story) is my main vice. If I'm going to CVS or the grocery store for anything, I'll most likely come out with a bottle (or 10) of nail polish. You see, this new light grey is just ever so different than the other five I own, but it is just as necessary as the others. What kind of nail polish lover would I be if I didn't give every deserving polish a good home?! Given my addiction, I couldn't turn away the kind folks at SpaRitual when they told me about their vegan nail lacquer.
When the Meditate line of polishes arrived in the mail, I squealed with joy as I retrieved each of the six colors from the package. The Meditate collection is full of beautiful pastels, which I think would be perfect for Spring, and especially during Easter time. And while the colors are great, the philosophy and story behind the creation of the products is just as beautiful. I want to do it justice, so I'll let SpaRitual speak for itself:
Dedicated to the spa tradition, SpaRitual is committed to creating eco-friendly products and packaging perfectly crafted for the enlightened consumer. We use Vegan ingredients from around the world, including many specially sourced and selected plant essences that are wildcrafted OR organic. The formulations are naturally colored and free of synthetic dyes. SpaRitual is constantly monitoring sustainability issues and strives to be on the cutting edge of environmental awareness.
And now, on to the polishes in all their meditated glory! Note: I've put the polishes below in order from my favorite to least favorite.
My absolute two favorite are Energy and Introspective, as they were the most pigmented and didn't need more than three coats (which is my standard stopping point). Calm & Clear was a nice pale pink, but was on the verge of needing four coats. Quietness, Peace & Harmony and Transcend were my least favorite because even after three coats, they were on the sheer side. It's a personal preference, but I like colors that give totally opaque coverage.
While I wasn't in love with all six colors, I have added Energy, Introspective and Calm & Clear to my normal polish rotation. Considering I have over 70 polishes, I think that's saying something!
Source: Beautyxpose
Posted on: February 25, 2013