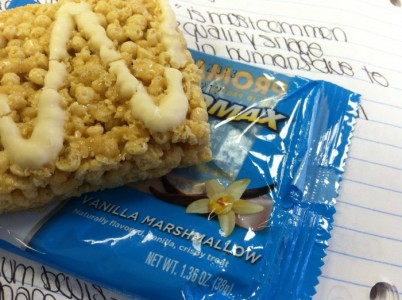 Power Protein
We all know I have a bit of a bar obsession.
So when I had the opportunity to try Promax Fit N Crisp I was a bit excited.
I had heard good things about these bars from other bloggers, so I had pretty high expectations.
After researching a bit more about the product, my expectations rose even higher. The fact that they are vegetarian, gluten free, and does not use any artificial sweetener is a win in my book. Sugars in protein bars is always a big concern with me.
When I got the bars I was intrigued to see they looked more like crispy treats than your typical protein bar. Not a bad thing. Just different.
The first flavor I tried was the Cinnamon Crunch.
Shocker, I loved it.
No really, I was actually surprised how much I enjoyed this bar.
I mean this girl. Cinnamon. Always a win, but it definitely exceeded my expectations in the flavor department.
It tasted more like a treat than a protein bar. Which sometimes can be good and bad, but remember I told you they use no artificial sweeteners and 13g of protein? This bar was awesome. Perfect brain food snack.
The next flavor was Vanilla Marshmallow.
Protein rice krispy treat anyone?
Again, it didn't remind me of a typical protein bar.
Again, I loved it.
Overall, I was really impressed with these bars and I wish I had more of them. I will have to try and find them somewhere near me. I suggest you keep your eyes peeled for them too, they are worth a try!
For more information on Promax, please click here.
Source: Accidently Delish
Posted on: February 26, 2013