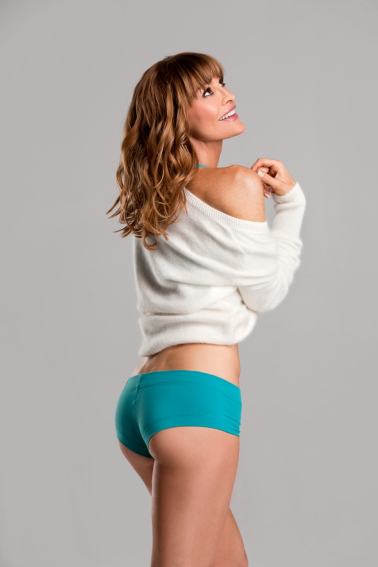 How Holly Perkins Maintains Her Toned Tush
How Holly Perkins Maintains Her Toned Tush!
Strength and Conditioning Specialist, New Balance Fitness Ambassador and renowned trainer Holly Perkins divulges to Delightfully Fit her personal strategies she implements in maintaining her own beautiful backside!
I've always been grateful to my parents, and their parents, for providing me with great genes. While I do have to work my tush off -literally- in the gym, I will say that I am happy with the body that I have been given and its ability to respond to my fitness efforts. You will be happy to know that there is one big exception, and that is my booty. I have not been blessed with a fantastic booty. Therefore, after almost 20 years in the fitness industry, I have finally nailed down a few tactics that help to keep my booty livin' up to its potential.
Here are my TOP FIVE TIPS for creating a great behind:
1). Diet is 50% of the battle.
It is quite remarkable how much my booty changes when I stick to a clean diet. I used to underestimate how powerful this consideration is. I can keep my exercise exactly the same, but a clean diet will shift my booty from average to… better.
2). Strength Training is 25% of the battle.
The muscles that make up your butt hold massive potential for strength and power. Therefore, they must be challenged far more than most people imagine. I have to work my A*# off in the gym to get my booty tight, strong and fat free. I perform butt-centric exercises in high volume (many sets) and high intensity (as heavy as I can while maintaining perfect form).
3). Steady state, moderate cardio is the final 25% of the battle.
There are a million ways to perform cardio. Right now HIIT training is very popular, and for good reason. However, I have found that I achieve the best long-term results by doing cardio at 75% of my max. Unfortunately, I do have to spend a good amount of time jogging, Elliptical-ing, and on the Arc Trainer (my favorite).
4). Every single female hip structure is different.
Because of hip structure and angles we are all truly one-of-a-kind… but we knew that already. Therefore, there is no miracle secret exercise to perform. I find that I have to use many different kinds of lower body exercises in order to influence my glutes. Some days one exercise is effective, and on other days I need a different movement. The key here is to try out many different butt-centric exercises and see what works for your one-of-a-kind derriere!
5). Because I know you're going to email me and ask,
Here are my five go-to, butt-centric exercises:

– Walking lunges are #1!

– Low Cable KickBacks

– The Butt Blaster Machine

– Any variation of a lunge!

– Leg Press (with feet very high and narrow on the foot plate)
About Holly Perkins
Holly Perkins holds a Bachelor of Science degree in Exercise Physiology and is a Certified Strength and Conditioning Specialist (CSCS). For the past 20 years Holly has shaped the bodies of celebrities and VIP's and now leads the Women's Strength Nation movement.
For the past five years Holly has worked exclusively with New Balance as a Fitness Ambassador. She also consults with Westin, Promax, Susan G Komen for The Cure, and The American Cancer Society.
Holly's advice can be seen in SELF, Women's Health, Oxygen, Prevention, Health and other publications. Holly has appeared on ABC News, Good Morning America and That Morning Show.
Source: Delightfully Fit
Posted on: March 5, 2013