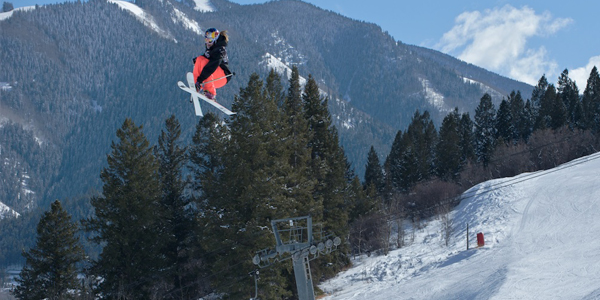 Grete Eliassen takes 3rd at FIS Freestyle World Ski Championships
On a day that started out with perfect bluebird skies but gradually turned overcast and cold, the penultimate event of the 2013 Voss/Oslo FIS Freestyle World Ski Championships worked to heat things up on the slopes of Myrkdalen.
Twelve of the top men's and ladies' slopestyle skiers in the world squared off against their competitors and the huge World Championships course that featured two rail sections, a pole-jam-to-air, and three massive jumps to finish things off. While the big course caused several of the top athletes no end of trouble, at the end of the day Kaya Turski (CAN) and Tom Wallisch (USA) mastered the Myrkdalen beast to claim World Championship gold.
On a course as gnarly and technical as the one the riders saw on Saturday, and on a stage as big as the World Championships, risks had to be taken. For riders like Turski and Wallisch the risks paid off, while for other favourites – like hometown girl Tiril Sjaastad Christiansen, for instance – this risks lead to crashes and missed opportunities. 2011 World Champion Alex Schlopy (USA) also failed to put together a start-to-finish run, as did another Norwegian hopeful, PK Hunder.
However, some incredible runs did get thrown down, as Dara Howell (CAN) really got things going on the day by stomping a run that included smooth rail tricks and big invert combinations after the five girls dropping ahead of her struggled through their runs.
Howell's run held up until Turski, fourth-to-last skier of the ladies' competition, dropped in for her second run. Turski's rail combinations were similar to Howell's, but her technical repertoire – in which fully 3/4s of her run was completed switch – put her into a commanding lead with a score of 89.6 to Howell's 85.6.
Last skier down the course was first overall qualifier Grette Eliassen (USA). Eliassen, something of an honourary Norwegian after spending many of her formative years living and going to school in the country, threw down a complete run but just didn't have the trick list to take the lead from Turski and was forced to settle for bronze. Howell took the silver.
The men's competition was an all-or-nothing type affair that really only saw the top four athletes putting down their best runs, as others in the stacked affair either fell or scrubbed out at various points in their lines.
Both Wallisch and James "Woodsy" Woods (GBR) were able to nail nearly flawless first runs though, with Wallisch's technical superiority and Woods' flawless style on grand display. Top Norwegian Andreas Haatveit also stepped up with a solid effort, and after run one the leader board saw Wallisch in 1st, Woods 2nd, and Haatveit 3rd.
For his second run (and with Woods lurking some three points behind him) Wallisch simply dropped and crushed everything in his path, icing one of the most creative rail lines (rail-to-box transfer with a blindside 270 out) and thrpowing huge airs followed by absolutely spotless landings the whole way down.
After Schlopy, Hunder, and Gus Kenworthy (USA) failed to make a run at Wallisch, Haatveit dropped in and thrilled the Norwegian crowd with a silky smooth, near-perfect run that moved him into 2nd place.
After Oscar Wester (SWE) struggled through his run following Haatveit there was only Woods and top qualifier Nick Goepper left to go. Woods proceeded to again casually demolish the course, upping the degree of difficulty by a notch on nearly every feature he faced. His last-hit switch right-side double-corked 1080 octograb was stunning but ultimately controversial, as Woods was rewarded with a score of 91.2 to move back into 2nd place despite what appeared to be a hand drag on his final landing.
Last run of the day went to Goepper, and he capitalized on it, throwing a rodeo 540 disaster to 270 off on the down box followed by three 1260 variations in his four-jump run (as he skipped the pole-jam feature). When the scores came in, it was bronze for Goepper and heartbreak for Haatveit, as the World Championship slopestyle contest ended on a bittersweet note for the host nation.
QUOTES
Ladies
GOLD – TURSKI Kaya (CAN) – "I think it was a very difficult course this week. I'm just psyched I pulled it together. I had a good practice this morning and it all came together for me."
"This season it's been good, but not my best. There's a lot of talent creeping up and a lot of really strong girls out there, so it's great to come out and be back on top and show everyone that I'm hanging around."
SILVER – HOWELL Dara (CAN) – "I'm feeling great. To have Kaya come down and bump me (from 1st ), it's ok. I'm glad she's on top. She's my teammate and she works really hard and I'm glad we're both up there."
"I'm really happy with my performance. I didn't have the best training, but to come down and put two runs together, I'm really happy with that."
BRONZE – ELIASSEN Grette (USA) – "I feel amazing. To come down and be 1st place in the qualifiers just gave me so much confidence going into the finals. I ended up in third, it's perfect. I'm coming off an injury and it's so nice to get back."
Men
GOLD – WALLISCH Tom (USA) – "I'm feeling amazing. It's so awesome to come out here, and it's a crazy, sick, big course. And this is a first for me, I've never been a 'World Champion,' so it's pretty cool."
"Second run dropping in I was stoked. I was in 1st place already, I was pretty happy with my first run but I just wanted to step it up and do a little bit more difficult on the rails, change my grab up on the last jump and just try and make it smoother overall and it ended up working out. I was already so happy to be where I was so it was easy to put down another run. No pressure."
SILVER – WOODS James (GBR) – "I'm very happy with myself. I'm really proud of everyone. Everyone is skiing absolutely fantastic all the time, not just here but everywhere. And you know, crikey, I got some flowers for the effort!"
BRONZE – GOEPPER Nick (USA) – "I'm a little bummed about my score, but really I'm just super psyched to be on the podium at the World Champs. It feels great. The course was pretty big and intimidating when we got here, but we had a couple days to get used to it and the shapers did a great job. I'm stoked to take bronze and go home and chill for a little bit."
TRICK LIST
Ladies
GOLD – TURSKI Kaya (CAN): down railslide 270 off, switch 180 to frontside switchup 270 off, switch left-side 360 safety, switch right-side 540 safety, right-side rodeo 540 Japan, switch 720 mute
SILVER – HOWELL Dara (CAN): down railslide 270 off, switch 180 to blind switch up, right-side 360 safety, left-side 360 critical, left cork 720 tail, left-side rodeo 540 critical
BRONZE – ELIASSEN Grette (USA): kink railslide 270 off, switch 180 to down railslide, left-side 360 double Japan, right 360 mute, left 720 mute, 540 double Japan
Men
GOLD – WALLISCH Tom (USA): 270 railslide 270 pretzel out, rail-to-box transfer blind 270, pole jam left-side 720 blunt, left-side double 1260 mute, switch right-side double-corked 1080 Japan, switch left-side double-corked 1080 tail
SILVER – WOODS James (GBR): switch 270 on 20ft rail, rail transfer frontside switch-up pretzel 270 out, switch pole jam 900 mute, left-side double-corked 1080 safety to Japan, right-side double-corked 1260 mute, switch right-side double-corked 1080 octo
BRONZE – GOEPPER Nick (USA): 270 railslide pretzel 270 out, rodeo 450 disaster 20ft rail, left-side double-corked 1260 tail, switch right-side double misty 1260 mute, right-side double-corked 1260 tail, switch left-side double-corked 1080 Japan
For more on this story, please click here.
Source:www.freeski.downdays.eu
Posted on: March 11, 2013