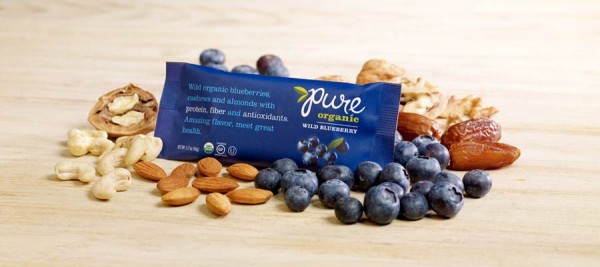 Saving U Green – Pure
Vitacost offers there take on Pure's Organic Wild Blueberry Bar:
Pure Organic Wild Blueberry Bar
Pure Organic bars are gluten free, organic, and vegan.   Pure Organic uses only high quality whole ingredients.   My wild blueberry bar is filled with protein, fiber, and healthy antioxidants.  The organic blueberries provided bursts of flavor and contrast nicely with the bits of walnuts. my daughter loves blueberries and Pure Organic is one of her favorite bars to have for breakfast!  I was really surprised to see there are dates in this bar.  I always thought I wasn't really a big fan of dates but didn't even realize or mind they were in the ingredients of my Pure Organic Wild Blueberry Bar.  Vitacost is currently offering 32% off on a 12 pk box of these delicious bars!
For more information, please click here!
Source: Vitacost
Posted on: March 20, 2013