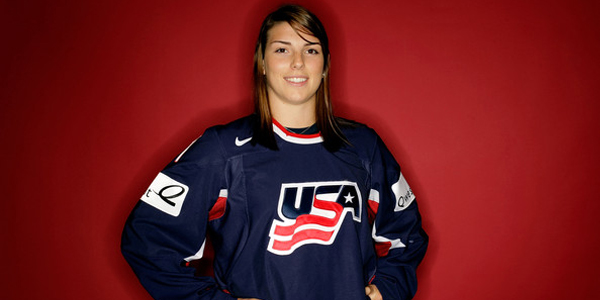 US OLYMPIC SILVER MEDALIST, HILARY KNIGHT, NAMED MVP OF THE CANADIAN WOMEN'S HOCKEY LEAGUE
FOR IMMEDIATE RELEASE: Boston, MA- March 21, 2013:  2010 Olympic Silver Medalist, Hilary Knight was named Most Valuable Player by The Canadian Women's Hockey League (CWHL) on Wednesday night in Toronto.  After leading the Boston Blades with 17 goals and 15 assists through the regular season, Hilary helped them capture their first regular season championship title, The Clarkson Cup, and took home the MVP trophy.  Hilary had a hand in every Boston Blade goal at this year's Clarkson Cup championship tournament, with 4 assists and 1 goal.
For the 2012-2013 season, Hilary has scored 32 points in 24 games and currently leads the Blades in overall points and assists.
"It is such an honor to be recognized as the Most Valuable Player of the Canadian Women's Hockey League," says Hilary.  "I am grateful for the opportunity to play with and against the best players in the world, and that is why this award means so much to me. Obviously, any individual award given in a team sport is rarely an individual effort, and a lot of my success comes from my teammates."
Hilary is a five-time member of the U.S. Women's National Team for the International Ice Hockey Federation World Women's Championship (gold-2008-09, silver-2007). Third in the tournament with nine points (7-2), led the tournament with seven goals and was selected as one of Team USA top three players in 2009 … Three-time member of the U.S. Women's Select Team for the Four Nations Cup (1st-2008, 2nd-2006, 2009). Led the team with five points (2-3) in 2009. Led the tournament with five points (3-2) in 2008 … Member of the U.S. Women's National Team in 2009-10 (Qwest Tour). Led the team with 30 points and 17 assists, while tying for the team lead with 13 goals … Three-time member of the U.S. Women's Under-22 Select Team (2006-08) … Fourtime USA Hockey Women's National Festival participant (2006-09) … Four-time USA Hockey Player Development Camp attendee (2003-06).
MEDIA CONTACTS:  Denege Prudhomme
denege@stanton-company.com
310.305.7800
Keren Lynch
keren@stanton-company.com
310.305-7800
Posted on: March 21, 2013