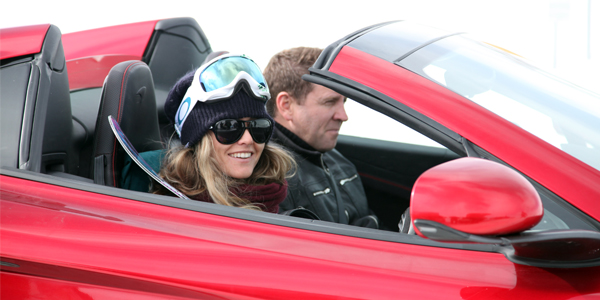 X Games snowboarder Chanelle Sladics races McLaren 12C Spider down Loveland Pass
McLaren knows how to make a supercar, and its abilities are put to a test in a new video featuring X Games professional snowboarder Chanelle Sladics. The extreme race down Colorado's dangerous Loveland Pass, known for hosting one of both the most dangerous ski slopes and most treacherous roads in the United States, features 2008 Drifting World Champion Rhys Millen dropping Sladics at the top and racing her to the bottom, where she jumps back in the passenger seat.
McLaren sure knows how to make a mark.
The luxury automaker brought its new McLaren 12C Spider to the notoriously dangerous Loveland Pass in Colorado for a test of the car's extreme abilities – and to race X-Games snowboarder Chanelle Sladics to the bottom.
In a specially made video to accompany the feat, Pikes Peak International overall record-holder and 2008 Drifting World Champion Rhys Millen races Sladics downhill in the convertible supercar, somehow managing to keep its 3.8-litre V8 twin turbo engine in check through descending hairpin turns along roads caked in snow and ice.
At 11,990 feet (3,655 m) above sea level, Loveland is the highest mountain pass in the world that stays open during the winter months and has a reputation as being one of the most treacherous stretches of road in the US.
But, if the video is to be believed, somehow Millen not only keeps the car under control, he also manages to beat eight-time X-Games competitor Sladics to the bottom of the hill, despite her taking the most direct route.
For more on this story and to see the video, click here.
Source: NYDailyNews.com
Posted on: March 22, 2013