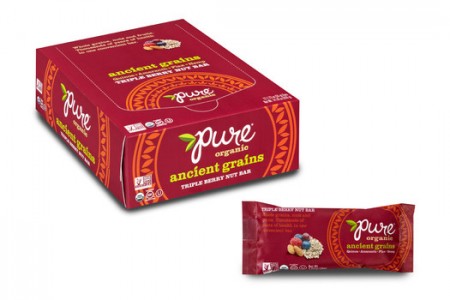 Top gluten-free bar picks from Expo West 2013
This was a big year for snack and nutrition bars at Expo West, with countless new brands and flavors on show. Here is our list of top picks based on taste and nutritional content.
Zing Bars: Zing has always had some of the best-tasting gluten-free bars on the market and this year they launched two new flavors—Double Nut Brownie and their first ever nut-free bar, Sunflower Chocolate Mint. If you're a fan of their existing dark-chocolate-coated bars such as Chocolate Coconut and Chocolate Peanut Butter you will love the new mint variety. Coated in organic dark chocolate, it tastes like a "cheat" food but is actually low glycemic with only 220 calories and 13 grams of sugar per bar. The Double Nut Brownie is equally decadent but without the chocolate coating. Both are gluten and dairy free and will be arriving in stores this June.
Pure Ancient Grain Bars: Ancient grains continued to be wildly popular this year, and Pure had the best grain-based bar at the show. Chewy, hearty and lightly sweet, these new bars strike a nice balance between healthy and indulgent. They come in two flavors, Chocolate Chunk Nut and Triple Berry Nut, and are satisfying without being overwhelming in size. Like all Pure products they are also certified organic and non-GMO.
KIND Snacks: KIND added to its popular Nuts & Spices line this year with two new varieties—Maple Glazed Pecan & Sea Salt and Dark Chocolate Chili Almond. Like their other Nuts & Spices bars, these contain only simple, real-food ingredients you can pronounce and have just 5 grams of sugar per bar. Whether you like sweet and spicy or sweet and salty, these are arguably two of their best flavors ever.
Now Peanut Butter & Jelly A3 Action Snax: Like Now's Manuka Newtons, these cookie-like squares contain high-quality Manuka honey, renowned for its healing and nutritive properties. The filling consists of a corn-syrup-free grape jelly sandwiched between two soft peanut butter layers. It tastes just like a PB&J sandwich, but less messy and with only 150 calories per square. Although designed as a portable sport snack, these are great for anytime you need a healthy energy boost. They are also dairy and soy free.
Vega One Bars: Available in Chocolate Cherry, Double Chocolate, and Chocolate Almond flavors, Vega's new One bars boast the same ingredients as their One nutritional shakes, but in portable form. Each bar contains 15 grams of protein, 25 added vitamins and minerals, an antioxidant blend, a full serving of greens, and 1 billion probiotics cultures. The Chocolate Cherry variety features large chunks of dried cherry nestled in a soft chocolate base coated in dark chocolate. If you don't have time to make a shake in the morning, these are a delicious way to get your daily dose of vitamins and minerals.
To read this article, please click here.
Source: Examiner.com
Posted on: March 25, 2013