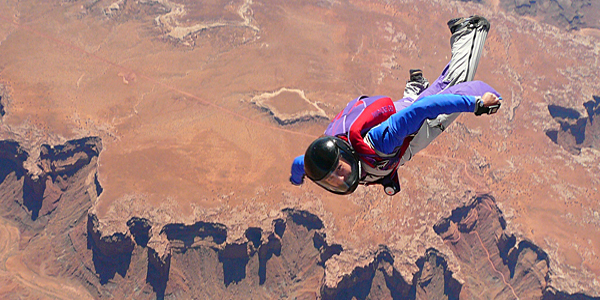 Flying high with climber, base jumper, and author Steph Davis
Steph Davis is not what you'd call timid. A normal day for her typically involves being suspended above the ground several thousand feet, whether it be racing through a vast expanse of empty air or scaling the face of a sheer cliff, the magnitude of the drop to the ground a guaranteed fatality. She's a champion in the international climbing community, sponsored by prAna, Evolv, Clif Bar, Backcountry.com, Mammut, and Adrenalin Base, and travels the world, constantly taking on daunting challenges everywhere from Yosemite to Italy to the Arctic Circle. Steph discovered her love for rock climbing when she was 18, and it has since become not only the profession but the passion of her life.
But life for Steph didn't always have its high points. After her husband made a controversial climb in Moab, Steph found her marriage and career disintegrating, and that climbing was no longer providing the breathtaking thrill it once did. "I lost the ability to simply trust," Steph says. "Climbing became an intensely solo and bizarrely emotionless experience." Steph recognized the dangerous position she was in and determined to shock her mind and her spirit into rekindling her passion for life. So naturally, she jumped out of a plane.
Such is the tale of Learning to Fly: An Uncommon Memoir of Human Flight, Unexpected Love, and One Amazing Dog, where Steph details her climbing experiences and how she found joy in skydiving and base jumping. "Everybody has a time or times in life when things don't go the way you expected or hoped, and everything seems to be falling apart," Steph states. "It can be overwhelming and can cause you to lose faith. Learning to jump pulled me out of that place and helped me regain confidence in myself and in life, which was the first step to the wonderful transformative experiences that followed." With solid, supportive friends and accompanied by her beloved dog Fletch, Steph set about changing the course of her life and ultimately finding happiness and contentment. When asked what she would like most for people to know about her book, Steph says, "Learning to Fly is about wild adventures and magical places, but not just the physical side of those things. It's about being caught by fear and breaking free–embracing change and regaining faith."
Steph Davis will be holding two book signings here in Utah: Tuesday, April 9 at Back of Beyond Books in Moab at 7:00 pm, and Thursday, April 11 at Weller Book Works in downtown SLC at 7:00 pm.
For more on this story, please click here.
Source: saltlakemagazine.com
Posted on: March 28, 2013