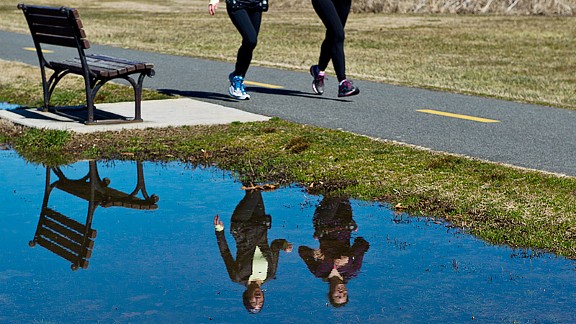 Top Trainers Share Worst Excuses
They've heard it all. And they're not buying any of them.
As we prepare to put a wrap on National Athletic Training Month, we've asked some of the top trainers in the country to share the most outrageous excuses they've heard from high-profile clients and elite athletes.
"I just ate, so nothing too intense today." — Told to Harley Pasternak, a New Balance Fitness Ambassador, whose high-profile clientele includes Lady Gaga, Halle Berry, Robert Pattinson and Robert Downey Jr.
"Just got a pedicure and don't want to ruin it by putting on shoes." — Told to Michelle Lovitt, who has trained Hollywood's ageless beauties, such as Courteney Cox, Lauren Graham, Mary-Louise Parker, Julianne Moore and Julia Louis-Dreyfus.
"I can't train because I am still sleeping. I am talking in my sleep right now." — Told to Ary Nunez, a Nike-sponsored athlete who works with superstars such as Rihanna and Alicia Keys.
"I knew something was a little off when this woman showed up for her first session in full makeup and her hair blown out. I don't give easy workouts; it tends to get sweaty on the training floor. We finished the warmup and then got into the circuit I had designed for her. Nothing too difficult, but I could tell she wasn't used to what I call 'big-bang exercises,' or movements that are full-range and incorporate multiple muscle groups. I could see the concern on her face building after each set. By the end of the first round, she kept pausing after each rep. She didn't seem tired, but more like concerned. I finally asked her, 'What's the matter, you look distracted?' She glared at me and said, 'If I keep up this pace with these exercises, I'm going to sweat! I just had my hair and makeup done!' There was a long, awkward pause. This was the first and only session we spent together." —Brett Hoebel, who has worked with Victoria's Secret models and a variety of actors.
"I am trying to think of an excuse to cancel and I can't come up with one that you will believe, so I am just canceling." — Told to Joel Harper, a Promax fitness ambassador whose clients range from Dr. Oz to Olympic medalists.
"Worst excuse for dropping out of a mid-summer race due to dehydration: 'It was too hot to drink.' Worst excuse for bonking and subsequently dropping out of a race despite having food with them: 'I thought about eating the gel, but its sugar contents are going to make me fat.' Worst excuse from a cyclist/triathlete to skip a workout: 'The battery in my power meter died, so I couldn't do my workout.'" — Told to Chris Carmichael, CEO ofCarmichael Training Systems and a world-class coach to more than 10,000 endurance athletes since 2000.
"One of my New York Giants once told me that if he did yoga he would get too flexible and get weaker. For the record, I've NEVER met a pro football player who's too flexible."– Gwen Lawrence, yoga teacher to the New York Giants, Yankees, Knicks, Rangers and Red Bulls.
"I don't want to start working out until I go on vacation because otherwise everything I will do with you won't really matter." — Told to Andrea Metcalf, who has worked with pro athletes from the Chicago Blackhawks and the Chicago Bulls.
"A big-name actress used to cancel several times a week, claiming that her children kept her from leaving the house. Meanwhile, I knew that she had a full-time chef, nanny, housekeeper and personal assistant. When I asked, 'You don't do any cooking, cleaning, organizing, dressing and washing … what is making you so busy that you can't get away for one hour?' She replied, 'You don't have kids so you wouldn't understand.'"– Ron Mathews, a CLIF Builder's spokesperson and trainer to Hollywood stars, including Jennifer Garner, Eva Mendes, Hugh Jackman and Orlando Bloom.
"It's just so overwhelming. I cannot emotionally handle it. Can we start fresh next week?"– Told to Sarah-Jane Hill, owner of Krank Fitness in Nashville, Tenn.
So if you're thinking about floating the old "dog ate my treadmill," just save it. Apply the effort to this afternoon's ab session instead.
Source: espnW
Posted on: March 28, 2013